Sexing Helice crassa by the morphology of their chelae
(1989)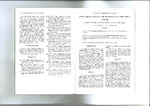 View/Open
Type of Content
Journal Article
Publisher
New Zealand Natural Sciences
ISSN
0113-7492
Collections
Keywords
Helice crassa; chela; carapace width; allometry; sexual dimorphism
Rights
CC-BY 4.0 International
Related items
Showing items related by title, author, creator and subject.
Nelson XJ

;

Jackson RR

(

ROYAL SOCIETY

,

2006

)

Sexual dimorphism is pronounced in Myrmarachne, a large genus of ant-like jumping spiders (Salticidae) and one of the major animal groups in which Batesian mimicry of ants has evolved. Although adult females and juveniles ...

Pierre, J. P.

(

New Zealand Natural Sciences

,

1994

)

O'Keefe, B.J.

;

Steel, P.J.

(

University of Canterbury. Chemistry.

,

2007

)

Silver(I) nitrate complexes of six isomeric bis(2-pyridyloxy)naphthalenes, differing only in the substitution pattern within the central naphthalene unit, have been shown to have an unexpected assortment of supramolecular ...