Shame : a developmental model
(2000)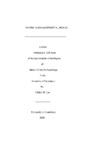 View/Open
Type of Content
Theses / Dissertations
Thesis Discipline
Psychology
Degree Name
Master of Arts
Language
English
Collections
Abstract
Over the last decade shame has been the subject of much research and debate. It has been examined from a variety of perspectives and includes theories from the affect, psychoanalytic and cognitive­ affective schools of thought. Conceptualization has taken many forms. It has been examined as an innate affect, a secondary emotion, and a blend of other emotions such as anger and contempt. Shame cognitions and beliefs about the self have also been subjected to investigation as well as behavioural outcomes and interpersonal dynamics. Some researchers believe that shame only emerges when the infant acquires objective self awareness. Others believe it is present from birth. Much of the current interest in shame began with the seminal work of Helen Lewis who discovered the presence of unacknowledged shame in the therapeutic process. It is this discovery together with her notion of shame as the attachment emotion that has driven the model presented in this thesis. Recently, developmental theorists have begun to explore the possible links between psychobiological processes and shame and attachment dynamics. These models, together with Crittenden's model of attachment and psychopathology are discussed and provide a base from which to launch the present developmental model of shame. This model suggests that shame develops within the context of affective relationships and that the quality of these relationships significantly influences the expression of shame within the psychotherapeutic process. In conclusion implications for further research particularly in the field of clinical practise are discussed.
Keywords
Shame; Developmental psychology
Rights
All Rights Reserved
Related items
Showing items related by title, author, creator and subject.
Gray, Claire

(

University of Canterbury

,

2017

)

This thesis focuses attention on the welfare setting in New Zealand where welfare policy is administered and put into practice. Within the thesis, I analyse focus groups interviews with 64 New Zealand lone mothers ...

Wall, Michael Francis

(

University of Canterbury

,

2002

)

This study explored the relationship between shame and anger in high anger males (n=7, mean age, 39 years), and non-angry males (n=6, mean age, 42years). It was found that shame and anger form a dynamic relationship, which ...

Gerslov, Helen Marie

(

University of Canterbury

,

1995

)

An individual's goal perspective is held to be the motivational focus of their actions within the sporting context. Goal orientations and perceived ability interact and influence sporting achievement behaviours in both ...