The political philosophy of the New Zealand Treasury : an analysis of Treasury's briefing papers to the incoming governments, 1984 to 1993
(1997)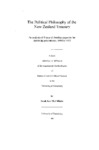 View/Open
Type of Content
Theses / Dissertations
Thesis Discipline
Political Science
Degree Name
Master of Arts
Language
English
Collections
Abstract
This thesis explores the political philosophy of the New Zealand Treasury by analysing the briefing papers it prepared for the incoming governments of 1984, 1987, 1990 and 1993. The underlying premise is that Treasury has been inextricably linked to the economic, administrative and social reforms of this period, which transformed New Zealand from a model of Keynesian state intervention to a bastion of free market economics. Such reforms can be seen as consistent with neo-liberalism in which the state's role is minimised, being limited to setting and enforcing the rules by which the free market operates. The intention of the thesis is to investigate whether the political philosophy underlying Treasury's economic policy framework, as put forward in the briefing papers, can be said to be neo-liberal. In doing so, it will first offer a brief overview of the New Zealand economy before presenting Treasury's model, which compares the abilities of the state and the market to achieve New Zealand's social goals. It will demonstrate that Treasury argues in favour of a neo-liberal policy framework on the grounds that the state can never produce better results for New Zealanders than the market, so it should leave the achievement of social well-being to the private sector. The thesis will then examine the claims that economic policy is essentially scientific and value-free -- in other words, politically neutral -- demonstrating that the "scientific facts" on which some of Treasury's assumptions are based are flawed. It will then discuss what happens to the social policy areas of health and education when the market model is applied, given its underlying weaknesses. The conclusion of the thesis focuses on the implications for the political community of the pursuit of neo-liberal policies, arguing that Treasury's neo-liberal prescriptions for social policy are unlikely to produce the "fair and thriving" society of the kind envisaged by New Zealanders, but are more likely to undermine the collective values on which New Zealand society has been built.
Keywords
New Zealand--Treasury; New Zealand--Treasury--Briefing to the incoming government; Free enterprise--New Zealand; Liberalism--New Zealand; New Zealand--Economic policy--1984-; New Zealand--Politics and government--1984-
Rights
All Rights Reserved
Related items
Showing items related by title, author, creator and subject.
Small, D.

(

University of Canterbury. School of Educational Studies and Human Development

,

2008

)

The People's Republic of China's (China's) recent reform of their individual income tax is amongst the most significant reforms for the country in decades. Not only have tax rates altered, with a number of new deductions ...