Attitudinal differences between the genders within New Zealand socio-economic issues
(1995)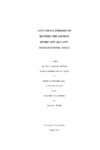 View/Open
Type of Content
Theses / Dissertations
Thesis Discipline
Political Science
Degree Name
Master of Arts
Language
English
Collections
Abstract
The aim of the thesis is to examine whether there are differences within public opinion of certain socio- and economic policy issues, highlighting the strength of opinion between the genders. The 1990 and 1993 Vowles and Aimer New Zealand electorial data bases were used to examine the specific socio-economic issues of: health, education, superannuation, and economic growth. These issues were cross tabulated against the independent variables: gender, age, education level and, personal income level.
The independent variables examined were found to have an effect on the strength of attitude toward the socio-economic issues. The older the age - the stronger the attitude towards the issue. The lower the education level - the stronger the attitude towards the issue. The lower the personal income level - the stronger the attitude towards the issue.
It was proven that there are gender differences within the socio-economic issues that were examined. Women have a greater concern of the socio issues of health, education and superannuation. Men have a greater concern toward the issue of economic growth. It was found that the strongest effect on the attitudinal differences of all variables was between the genders.
This thesis has highlighted the importance of a study of this nature. In examining gender differences within socio-economic issues policy and wider social implications there can be greater awareness placed on gender differences between issues and their needs.
Keywords
Public opinion--New Zealand--Sex differences; New Zealand--Economic policy--Public opinion--Sex differences; New Zealand--Social policy--Public opinion--Sex differences
Rights
All Rights Reserved
Related items
Showing items related by title, author, creator and subject.
Alm, J.

;

Clark, J.

;

Leibel, K.

(

College of Business and Economics, University of CanterburyUniversity of Canterbury. Department of Economics and Finance

,

2011

)

In this paper we present a rare empirical study on the determinants of tax filing compliance in the United States using county and state level data from 2000 to 2006. As well as including explanatory variables identified ...

Holder-Pearson, Lui

;

Chase, Geoff

(

Frontiers Media SA

,

2022

)

Wang X

;

Wilson G

;

Petrovic, Milenko

(

National Centre for Research on Europe, University of Canterbury

,

2019

)

The two policy briefs that this Jean Monnet Chair will issue annually for the period September 2017 – September 2020 will cover the following aspects of the contemporary developments of the Balkan States and the Eastern ...