An Investigation into the Classroom Interactions of Twice Exceptional Students in Comparison to their Typically Developing Peers
(2015)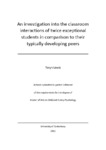 Type of Content
Theses / Dissertations
Thesis Discipline
Health Sciences
Degree Name
Master of Arts
Publisher
University of Canterbury. Education
Collections
Abstract
Students who meet criteria for both being intellectually gifted and having a disability are known by the term 'twice exceptional'. To date there is little known about the classroom interactions of these students, and how these interactions impact their developing self-esteem. The interactions of four gifted primary school students with identified learning difficulties (twice exceptional) were observed along with four matched typically developing students and their teacher during normal classroom teaching activities. The number and type of positive, negative, neutral or no response interactions were recorded over four, one hour observation sessions. The Coopersmith Self-Esteem Inventory was then administered to the four twice exceptional and four comparison students. Results indicated that there was little difference between the twice exceptional and comparison students in terms of number of interactions recorded, with the twice exceptional students showing slightly more positive interactions with their teacher and peers. All four twice exceptional students reported lower self-esteem levels than their matched peers, with two students being in the low range. The results suggested that these four twice exceptional students were interacting in a manner similar to their typically developing peers, although they displayed lower self-esteem levels. The implications of these findings and recommendations for future research are discussed.
Keywords
Twice exceptional; gifted; learning difficulties; self esteem; children
Rights
Copyright Taryn Lewis
Related items
Showing items related by title, author, creator and subject.
McLay, Laura-Lee K.

(

University of Canterbury. School of Educational Studies and Human Development

,

2003

)

In recent times incidental teaching has become the preferred method for encouraging children's learning and language development within the early childhood setting. It is argued that this naturalistic, unstructured and ...

Good, Pua Virginia

(

University of Canterbury. Communication Disorders

,

2009

)

Sound-field amplification systems (SFA) have proven effective in overcoming classroom listening difficulties associated with noise, distance and reverberation. However, whether improving the classroom listening environment ...

Sultana, Asifa

(

University of Canterbury. Communication Disorders

,

2015

)

Aims: Verb morphology, arguably, is identified as an area of exceptional challenge for the language development of both young typically-developing children, and children with language difficulties (Leonard, 2014a; Rice & ...