First evidence of microplastics in Antarctic snow
(2022)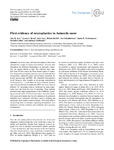 View/Open
Type of Content
Journal Article
Publisher
Copernicus GmbH
ISSN
1994-0424
Language
en
Authors
Aves AR
Gaw S
Ruffell H
Schuddeboom A
Wotherspoon NE
LaRue M
McDonald AJ
Revell, Laura
show all
Abstract
In recent years, airborne microplastics have been identified in a range of remote environments. However, data throughout the Southern Hemisphere, in particular Antarctica, are largely absent to date. We collected snow samples from 19 sites across the Ross Island region of Antarctica. Suspected microplastic particles were isolated and their composition confirmed using micro-Fourier transform infrared spectroscopy (µFTIR). We identified microplastics in all Antarctic snow samples at an average concentration of 29 particles L−1, with fibres the most common morphotype and polyethylene terephthalate (PET) the most common polymer. To investigate sources, backward air mass trajectories were run from the time of sampling. These indicate potential long-range transportation of up to 6000 km, assuming a residence time of 6.5 d. Local sources were also identified as potential inputs into the environment as the polymers identified were consistent with those used in clothing and equipment from nearby research stations. This study adds to the growing body of literature regarding microplastics as a ubiquitous airborne pollutant and establishes their presence in Antarctica.
Citation
Aves AR, Revell LE, Gaw S, Ruffell H, Schuddeboom A, Wotherspoon NE, LaRue M, McDonald AJ First evidence of microplastics in Antarctic snow. The Cryosphere. 16(6). 2127-2145.
This citation is automatically generated and may be unreliable. Use as a guide only.
ANZSRC Fields of Research
37 - Earth sciences::3708 - Oceanography
41 - Environmental sciences::4105 - Pollution and contamination
37 - Earth sciences::3709 - Physical geography and environmental geoscience
Rights
All rights reserved unless otherwise stated
Related items
Showing items related by title, author, creator and subject.
Hartery S

;

Toohey D

;

Sellegri K

;

Kuma P

;

Harvey M

;

Revell, Laura

;

McDonald, Adrian

(

American Geophysical Union (AGU)

,

2020

)

Modeling the shortwave radiation balance over the Southern Ocean region remains a challenge for Earth system models. To investigate whether this is related to the representation of aerosol-cloud interactions, we compared ...

Dierking, W.

;

Linow, S.

;

Wesche, C.

;

Rack, W.

;

Hoppmann, M.

;

Willmes, S.

(

University of Canterbury. Gateway Antarctica

,

2013

)

The balances between mass gain and loss of the ice sheets and of the polar sea ice have received increased attention because of their influence on changes of Earth's environment. In this context, investigations of snow ...

Farooq U

;

Rack W

;

McDonald A

;

Howell S

(

MDPI AG

,

2020

)

© 2020 by the authors. The Ross Sea region, including three main polynya areas in McMurdo Sound, Terra Nova Bay, and in front of the Ross Ice Shelf, has experienced a significant increase in sea ice extent in the first ...