The Glory of Nicocles: Foucault's Greeks and the Inegalitarian Underside of the Professional-Managerial Class
(2022)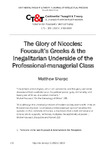 View/Open
Type of Content
Journal Article
Publisher
University of Canterbury
ISSN
2463-333X
Collections
Abstract
A strange thing confronts the critical reader of Michel Foucault's famous interviews on the "aesthetics of existence" he finds in the classical Greek ethicists. On the one hand, Foucault disavows any nostalgia for a past age, or narrative of some "fall" from a pristine beginning into the forms of modern disciplinary and biopower his 1970s works had examined (294-5)0F1: "no, I am not looking for an alternative" (256). He does not find the classical Greeks exemplary (259). The ethical practices of "care of the self" which he examines in the History of Sexuality volumes were, first of all, the province of a tiny male elite. "The Greek ethics of pleasure is linked to a virile society, to dissymmetry, exclusion of the other, an obsession with penetration, and a kind of threat of being dispossessed of you own energy, and so on. All that is quite disgusting!" (258) This was an ethics governed by the imperative "not to be a slave" (285). As such, it was political all the way up, or down. "The relation with politics is obvious" (293): tied to a deeply inegalitarian social order, one in which slaves and women were considered passive and incapable of a fully ethical life (285), and configured on the basis of a self-politicizing internalization of external relations of domination (one must master one's pleasures and drives, so as not to be enslaved by them). "Freedom for the Greeks signifies non-slavery …. The problem is already entirely political" (285). If this was an "aesthetics" of self-beautification, Foucault avows, it was also "both aesthetic and political, which were directly linked … political power, glory, immortality, and beauty are all linked at a certain moment. That's the mode d'assujettissement…" (265). But this is bad, seemingly, in some moments in the interviews: "why couldn't everyone's life become a work of art?", Foucault for instance asks in an egalitarian voice (261).
Rights
This work is licensed under a Creative Commons Attribution 4.0 International License.
Except where otherwise noted, this item's license is described as This work is licensed under a Creative Commons Attribution 4.0 International License.
Related items
Showing items related by title, author, creator and subject.
Dixon, K.

;

Gleadle, P.

(

University of Canterbury. Department of Accounting and Information Systems

,

2007

)

The accounting education of people in managerial roles or performing managerial work is relatively neglected in the literature compared with educating accountants. Moreover, judged from most textbooks purporting to serve ...

Montgomery, M.E.

(

University of Canterbury. School of Humanities and Creative Arts

,

2015

)

Sharpe, Matthew

(

University of Canterbury

,

2016

)