Cass : history and science in the Cass district, Canterbury, New Zealand
(1977)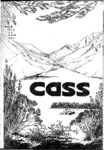 View/Open
Type of Content
Authored Books
Publisher
Department of Botany, University of Canterbury
Collections
Editors
Burrows, C. J. (Colin James)
Abstract
The Cass Field Station of the University of Canterbury was first built in 1914 among the mountains of the upper Waimakariri River Basin and this volume covers the history of the Station and the Cass district, including the farming endeavour there. Other articles, written by authors eminent in their fields, describe the geology, geomorphology, soils, climate, and the biology and ecology of the various vegetation types and animal habitat types. Although the data summarizes sixty years of natural science in the area, much new information is included in each article. Seldom has any locality of comparable size in New Zealand been as well studied as the area around Cass but most of the articles ·give prominence to the need for further study.
Extensive annotated check lists of the flora and fauna are given and there is a list of all theses and publications which have been based on work in the vicinity of the Station.
This volume is an important contribution to natural science in the South Island mountains and is recommended to interested laymen, students and research scientists.
Citation
Cass : history and science in the Cass district, Canterbury, New Zealand / editor: C.J. Burrows. [Christchurch] : Department of Botany, University of Canterbury, 1977.
This citation is automatically generated and may be unreliable. Use as a guide only.
Keywords
Natural history -- New Zealand -- Cass; Cass (N.Z.) -- History
ANZSRC Fields of Research
31 - Biological sciences::3103 - Ecology
31 - Biological sciences::3108 - Plant biology
31 - Biological sciences::3109 - Zoology::310914 - Vertebrate biology
31 - Biological sciences::3109 - Zoology::310913 - Invertebrate biology
41 - Environmental sciences::4102 - Ecological applications::410206 - Landscape ecology
37 - Earth sciences::3709 - Physical geography and environmental geoscience
37 - Earth sciences::3705 - Geology
41 - Environmental sciences::4106 - Soil sciences
37 - Earth sciences::3701 - Atmospheric sciences
30 - Agricultural, veterinary and food sciences::3002 - Agriculture, land and farm management
44 - Human society::4406 - Human geography::440604 - Environmental geography
44 - Human society::4406 - Human geography::440609 - Rural and regional geography
43 - History, heritage and archaeology::4303 - Historical studies::430320 - New Zealand history
Rights
All rights reserved unless otherwise stated
Related items
Showing items related by title, author, creator and subject.
Conrow, Lindsey

;

Campbell, Malcolm

;

Kingham, Simon

(

Wiley

,

2021

)

Changes in people's movement and travel behaviour have been apparent in many places during the COVID-19 pandemic, with differences seen at a range of spatial scales. These changes, occurring as a result of the COVID-19 ...

Alestra T

;

Bell J

;

Lewis M

;

Parsons S

;

Girvan R

;

Martin-Paul M

;

Baggaley F

;

Blackely T

;

Moore T

;

Todd D

;

Thompson K

;

Thomsen M

;

Hart, Deirdre E.

(

2022

)

Do Thi H

;

Dombroski, Kelly

(

Wiley

,

2022

)

Climate change adaptation is a key shared endeavour of our time. In Thai Binh Province of Vietnam, rice farmers have been adapting to environmental change for generations and have developed sophisticated strategies of ...