Yoongoorrookoo
(2021)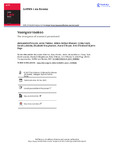 View/Open
Type of Content
Journal Article
Publisher
Informa UK Limited
ISSN
1038-3441
1839-4205
Language
en
Authors
Pelizzon A
Poelina A
Akhtar-Khavari A
Clark C
Laborde S
O'Bryan K
O'Donnell E
Page J
Macpherson, Elizabeth
show all
Abstract
Since the momentous release of the Montecristi Constitution of Ecuador in 2008, which recognised Nature, or Pacha Mama, as a subject of rights, the rights of Nature movement across the world has gained exponential momentum, with numerous jurisdictions worldwide now recognising some form of legal subjectivity vested upon Nature. In particular, since 2017, river personhood has dominated news headlines around the world as one of the most recognisable forms of Nature's novel subjectivity. The emergence of legal personhood for nature, however, has been far from uncontroversial, and numerous critiques have been advanced against the use of such a legal category – traditionally applied to humans and their abstract creations (such as States and corporations) – to the natural world, resulting in numerous calls for an alternative category of legal personhood (one that some rights of Nature advocates have termed an 'environmental person'). Against the backdrop of this emerging debate, this paper acknowledges the work undertaken by the Martuwarra Fitzroy River Council (Martuwarra Council), which was established in 2018 in the Kimberley region of Western Australia by six independent Indigenous nations to preserve, promote and protect their ancestral River from ongoing destructive 'development'. The Council believes it is time to recognise the pre-existing and continuing legal authority of Indigenous law, or 'First Law', in relation to the River, in order to preserve its integrity through a process of legal decolonisation. First Law differs markedly from its colonial counterpart, as its principles are not articulated in terms of rules, policies and procedures, but rather through stories. This paper, therefore, begins with a dialogical translation of one First Law story relating to Yoongoorrookoo,1 the ancestral serpent being,2 to create a semantic bridge between two apparently distant legal worldviews. A dialogical comparative analysis is then followed to posit and explore the concept of an 'ancestral person' as a novel comparative tool that may be able not only to capture the idea of Nature as a legal subject, but also complex Indigenous worldviews that see Nature – in this case instantiated in the Martuwarra – as an ancestral being enmeshed in a relationship of interdependence and guardianship between the human and the nonhuman world. To instantiate and embody such relationships, the paper directly, and somewhat provocatively, acknowledges the River itself, the Martuwarra RiverOfLife, as the primary participant in such dialogue, an embodied non-human co-author who began a conversation then left to human writers to continue.
Citation
Pelizzon A, Poelina A, Akhtar-Khavari A, Clark C, Laborde S, Macpherson E, O'Bryan K, O'Donnell E, Page J Yoongoorrookoo. Griffith Law Review. 1-25.
This citation is automatically generated and may be unreliable. Use as a guide only.
Keywords
Ecological jurisprudence; environmental personhood; rights of nature; Martuwarra; first law; ancestral personhood
ANZSRC Fields of Research
45 - Indigenous studies::4503 - Aboriginal and Torres Strait Islander environmental knowledges and management
48 - Law and legal studies
Rights
All rights reserved unless otherwise stated
Related items
Showing items related by title, author, creator and subject.
O'Neill L

;

Godden L

;

Macpherson EJ

;

O'Donnell E

(

2016

)

In view of the drive in policy circles to develop northern Australia and the concomitant dependence on water resources this will involve, this article argues that environmental and distributive justice considerations are ...

Macpherson EJ

;

O'Donnell E

(

Pontificia Universidad Catolica de Chile

,

2017

)

In this article we consider what giving rivers 'legal personality' might add to existing institutional options for environmental water regulation. We examine this question by studying the regulatory approach adopted for ...