IC Chip to PC Board Connector System
(1994)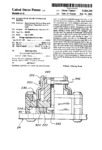 View/Open
Type of Content
Intellectual Property
Authors
Ikenaka K
Munro, Deborah
show all
Abstract
In accordance with one embodiment of the present invention, an apparatus of moderate cost is provided which can readily releasably connect an integrated circuit to a circuit board. The apparatus includes a socket that can be readily mounted on the circuit board, the socket forming a largely rectangular cavity which closely receives the integrated circuit. The socket has a lower portion forming vertical through slots, each slot extending parallel to one of the sides of the rectangular socket. An elongated vertically-compressible interface device lies in each of the slots, each interface device having a row of compressible conductors with upper ends pressing against conductive pads on the underside of the integrated circuit, and each compressible conduc tor having a lower end pressing against a conductive trace on the circuit board. A cover or the like mounts on the socket and presses the integrated circuit down wardly into the socket, to compress the interface de vices to interconnect the integrated circuit to the circuit board.
Citation
Munro D, Ikenaka K (1994). IC Chip to PC Board Connector System. US..
This citation is automatically generated and may be unreliable. Use as a guide only.
ANZSRC Fields of Research
40 - Engineering::4017 - Mechanical engineering::401799 - Mechanical engineering not elsewhere classified
Rights
All rights reserved unless otherwise stated
Related items
Showing items related by title, author, creator and subject.
As a means to increase female, Māori, and Pasifika student enrollment in a Mechanical Engineering program in New Zealand, a minor in Biomedical Engineering was developed. Before the minor was introduced, female ...

Young orthopedic engineers face a knowledge gap when designing a device that is to be manufactured with traditional machine tools. Industry and academic leaders have asked BONEZONE to address these design for manufacturing ...