Capillaric-Field Effect Transistors
(2022)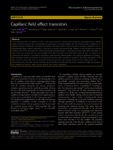 View/Open
Type of Content
Journal Article
Publisher
Springer Science and Business Media LLC
ISSN
2055-7434
Language
en
Collections
Authors
Meffan R
Menges J
Dolamore F
Mak D
Fee C
Dobson R
Nock, Volker
show all
Abstract
Controlling fluid flow in capillaric circuits is a key requirement to increase their uptake for assay applications. Capillary action off-valves provide such functionality by pushing an occluding bubble into the channel using a difference in capillary pressure. Previously, we utilized the binary switching mode of this structure to develop a powerful set of fundamental fluidic valving operations. In this work, we study the transistor-like qualities of the off-valve and provide evidence that these structures are in fact functionally complementary to electronic junction field effect transistors. In view of this, we propose the new term capillaric field effect transistor to describe these types of valves. To support this conclusion, we present a theoretical description, experimental characterization, and practical application of analog flow resistance control. In addition, we demonstrate that the valves can also be reopened. We show modulation of the flow resistance from fully open to pinch-off, determine the flow rate–trigger channel volume relationship and demonstrate that the latter can be modeled using Shockley's equation for electronic transistors. Finally, we provide a first example of how the valves can be opened and closed repeatedly.
Citation
Meffan R, Menges J, Dolamore F, Mak D, Fee C, Dobson R, Nock V (2022). Capillaric-Field Effect Transistors. Microsystem & Nanoengineering. 8(1).
This citation is automatically generated and may be unreliable. Use as a guide only.
ANZSRC Fields of Research
40 - Engineering::4012 - Fluid mechanics and thermal engineering::401210 - Microfluidics and nanofluidics
Rights
All rights reserved unless otherwise stated
Related items
Showing items related by title, author, creator and subject.
Meffan RC

;

Mak D

;

Menges J

;

Dolamore F

;

Fee C

;

Dobson RCJ

;

Nock, Volker

(

IEEE

,

2022

)

An important application area of microfluidics is point-of-care devices. Capillaric circuits are a promising technology to realize such devices. Recently, we introduced a capillary action off-valve which adds preprogrammed ...

Cheradame N

;

Calius E

;

Meffan, Robert Claude

;

Sellier, Mathieu

;

Nock, Volker

(

IEEE

,

2019

)

This paper reports an alternating current (AC) thermal flow sensor, based on the 3ω method, capable of measuring fluid flow in stacked microfluidic channels and through separating membranes. The measurement concept is ...

Alkaisi, Maan

;

Nock, Volker

;

Onal, Sevgi

(

2019

)

In this work we report a microfluidic cell-culture platform with an integrated, actively-modulated actuator for the application of compressive forces on cancer cells. We show fabrication of the platform, mechanical cha ...