Finite-size and Disorder Effects on 1D Unipartite and Bipartite Surface Lattice Resonances
(2022)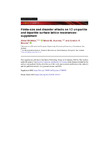 Type of Content
Journal Article
Publisher
The Optical Society
ISSN
1094-4087
Language
en
Collections
Alternative Title
Finite-size and Disorder Effects on Unipartite and Bipartite Surface Lattice Resonances
Abstract
Optical resonances in bipartite metal nanostructure lattices are more resilient to finite size-effects than equivalent unipartite lattices, but the complexities of their behaviour in non-ideal settings remain relatively unexplored. Here we investigate the quality factor and extinction efficiency of 1D Ag and Au unipartite and bipartite lattices. By modelling finite size lattices over a range of periods we show that the quality factor of Ag bipartite lattices is significantly better than unipartite lattices. This improvement is less pronounced for Au bipartite lattices. We also show that bipartite lattices are dramatically affected by structure size variations at scales that are typically seen in electron beam lithography fabrication in contrast to unipartite lattices, which are not as sensitive.
Citation
Warren A, Alkaisi M, Moore C (2022). Finite-size and Disorder Effects on 1D Unipartite and Bipartite Surface Lattice Resonances. Optics Express.
This citation is automatically generated and may be unreliable. Use as a guide only.
ANZSRC Fields of Research
40 - Engineering::4009 - Electronics, sensors and digital hardware::400909 - Photonic and electro-optical devices, sensors and systems (excl. communications)
51 - Physical sciences::5102 - Atomic, molecular and optical physics::510204 - Photonics, optoelectronics and optical communications
40 - Engineering::4018 - Nanotechnology::401809 - Nanophotonics
40 - Engineering::4018 - Nanotechnology::401807 - Nanomaterials
40 - Engineering::4016 - Materials engineering::401605 - Functional materials
Rights
All rights reserved unless otherwise stated
Related items
Showing items related by title, author, creator and subject.
Warren A

;

Alkaisi, Maan

;

Moore, Ciaran

(

American Vacuum Society

,

2021

)

Subradiant surface lattice resonances are of interest due to their remarkably high quality factors. In this work, these high quality resonances are experimentally investigated in the visible spectrum with Au and Ag bipartite ...

Weddell, Stephen John

;

Clare, Richard

;

Muruganandan, V.A.

;

Lambert, Andrew

(

2019

)

We are developing and will commission a space debris and object detection system in New Zealand that will provide high resolution capability to examine orbiting near Earth objects using a simplified, low-cost approach, ...

Campbell JD

;

Holder-Pearson, Lui

;

Benton C

;

Chase, Geoff

;

Pretty, Christopher

;

Knopp, Jennifer

(

Elsevier BV

,

2020

)

Abstract: Currently, there are no continuous, non-invasive blood glucose monitors. With over 366 million people worldwide expected to be diagnosed as diabetic by 2030, an alternative to the current invasive methods is ...