Unemployment in New Zealand ; recent trends
(1982)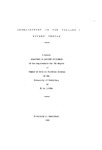 View/Open
Type of Content
Theses / Dissertations
Thesis Discipline
Political Science
Degree Name
Master of Arts
Language
English
Collections
Abstract
This thesis is addressed to what is likely to be the single most important issue in New Zealand during the next decade: unemployment. The increasing levels of unemployment, inherited from the late 1970's, have posed social problems, not only on the state, but on society itself. The starting point for this thesis is the material conditions of New Zealand capitalism; namely, the production relations. In other words, the analysis presented here deals with capitalism as a system of production, where the emphasis is on the relations between classes in the process of production and exchange. This thesis, therefore, is concerned with the impact of unemployment on society as a consequence of capitalist production. The burden of unemployment is not evenly distributed but, rather, is concentrated on certain sections of the labour-force. Three- quarters of those registered as unemployed, for example, are under 30 years of age and nearly half under 20. The uneven concentrations of unemployment imply uneven social effects which demand specific forms of state attention. The point is that, since the conditions of employment arise from the law of capital accumulation, so too do the conditions of unemployment. Furthermore, the conditions of employment and unemployment are characterised by specific forms (such as the prevalence of divisions within the labour-force) and simultaneously encourage particular types of stat activity. Above all, this thesis concentrates on the effect of unemployment on capital and provides an assessment of current state policies. Accordingly, the major focus is on the rising levels of unemployment in New Zealand (and their social effects) within the sphere of production.
Keywords
Unemployment--New Zealand; Production (Economic theory); Capitalism
Rights
All Rights Reserved
Related items
Showing items related by title, author, creator and subject.
Wang X

;

Wilson G

;

Petrovic, Milenko

(

National Centre for Research on Europe, University of Canterbury

,

2019

)

The two policy briefs that this Jean Monnet Chair will issue annually for the period September 2017 – September 2020 will cover the following aspects of the contemporary developments of the Balkan States and the Eastern ...

Chamberlain D

;

Menclova AK

(

Informa UK Limited

,

2015

)

In this paper, we estimate the effect of changes in the unemployment rate on private health insurance coverage of New Zealanders using quarterly national data from 1999 to 2009. A one percentage-point increase in the ...

Boyle, G.

(

University of Canterbury. Department of Economics and Finance

,

2010

)