Debating Regional Military Intervention:An Examination of the Australian and New Zealand Media-Government Relationship During the 2003 Solomon Islands Crisis
(2012)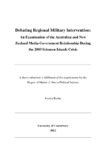 View/Open
Type of Content
Theses / Dissertations
Thesis Discipline
Political Science
Degree Name
Master of Arts
Publisher
University of Canterbury. School of Social and Political Science
Collections
Abstract
This study explores the Australian and New Zealand media-government relationship during foreign instability and regional military intervention. It offers a critique of print media coverage and political communication during the 2002-2003 Solomon Islands crisis and the subsequent Regional Assistance Mission to the Solomon Islands. By reviewing the Indexing Hypothesis and CNN Effect, this thesis considers media and government data from the year preceding the intervention. By investigating the media-government relationship in the Pacific region, this study builds on the literature that has so far primarily focused on American and European led interventions. Previous research has illustrated the advantages and limitations to specific methodological practises. This study has drawn from the current literature to form a unique methodical approach. The methods to test the Australian and New Zealand media-government relationship include content analysis, and qualitative techniques for use in four complementary tests. Findings from this study indicate that while there is some degree of the media using the political elite as a cue for newsworthy issues, the media appear to often report independently from the political elite perspectives. The political elite set the range of debate, and while the media stay within this range, they appear to sensationalise certain aspects of the debate. Government also appear to benefit from this media behaviour as it uses the media to gauge responses during the policy formation process.
Keywords
Media; Indexing Hypothesis; CNN Effect; Solomon Islands; New Zealand; Australia
Rights
Copyright Jessica Roche
Related items
Showing items related by title, author, creator and subject.
Baird, Rosemary Anne

(

University of Canterbury. School of History

,

2008

)

This thesis investigates the evolution of Australian and New Zealand peacekeeping operations in the Pacific through a trans-Tasman lens. Both Australian and New Zealand sources are used in order to understand the relationship ...

Moses, J.

(

University of Canterbury. School of Social and Political SciencesUniversity of Canterbury. Political Science

,

2006

)

Following the 1999 intervention to quell the transitional violence in East Timor, the Australian Government began to vociferously promote itself as a defender and spreader of "freedom and democracy" in the Asia-Pacific ...

Donders, Hanna Tiare

(

University of Canterbury. Department of Geological Sciences

,

2009

)

The Pilbara region of Western Australia hosts the Hamersley Province, an area of abundant iron ore resources located in the lower Hamersley Groups, Brockman and Marra Mamba Iron Formations. This study consists of a ...