Replication of child sexual abuse in males
(1990)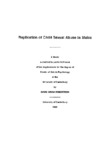 View/Open
Type of Content
Theses / Dissertations
Thesis Discipline
Psychology
Degree Name
Master of Arts
Language
English
Collections
Abstract
This thesis reviewed the major methodological, theoretical and empirical research literature pertaining to replication of child sexual abuse (CSA) in males. The review concluded that a dearth of scientific evidence exists in support of child sexual abuse replication. The aim of the current study was to empirically examine the relationship between childhood sexual victimization experiences and adult offending behaviour in males. Some 45 male incarcerated child sexual offenders undergoing treatment were interviewed about their childhood sexual experiences and their offence history. Some 78% of the sample were sexually abused as children and data from this group were used to study CSA replication. Simple replication of any characteristic from the first, last or all CSA experience(s) was not apparent from simple correlation analysis. Such characteristics included age of victim, gender, victim-offender relationship, sexual act and force associated with abuse. Multivariate analysis revealed that the gender of the subject's first victim was able to be predicted from a mean gender rating of each subject's perpetrators and a mean physical rating of each subject's entire child sexual abuse history. This function was able to correctly predict the gender of the first victim of 79% of the abused sample. Gender replication was found to be significantly modulated by happy, physically pleasant and physically intrusive child sexual abuse experiences. It is suggested that the results are more supportive of social learning explanations than psychodynamic models of CSA replication. The need for more sophisticated, multivariate analysis of replication is stressed. Finally, the results are discussed in terms of their implications for future research and treatment of male victims and adult perpetrators of child sexual abuse.
Keywords
Child molesters; Child sexual abuse; Adult child sexual abuse victims
Rights
All Rights Reserved
Related items
Showing items related by title, author, creator and subject.
Scott, Nicola

(

University of Canterbury

,

1994

)

Ford, Sandra Jane

(

University of Canterbury

,

1992

)

This study is a replication of Broussard and Wagner (1988). The study included written descriptions of a sexual encounter between an adult and a child to examine the way in which the gender of the child, the gender of the ...

Black, Chloe

(

University of Canterbury

,

2018

)

The prevalence of Child Sexual Abuse Imagery (CSAI) is ever increasing with the advancement of technology in today's world, and with that is an increase of risk of reconviction for CSAI offences. Therefore, it is imperative ...