Literature of the Holocaust perpetrator. A comparative literary analysis of Jonathan Littell's "The Kindly Ones" with German Väterliteratur (Father literature).
(2014)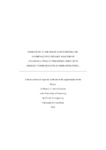 Type of Content
Theses / Dissertations
Degree Name
Master of Arts
Publisher
University of Canterbury. School of Language, Social and Political Sciences
Collections
Abstract
Undoubtedly the historical settings and aspects of the Nazi Holocaust have been examined for many decades. Research has focused much on the victims of the Holocaust. However, the examination of the perpetrators of the Nazi Holocaust continues to cause anxiety and controversy.
In my thesis I examine what possible constraints are imposed on authors/narrators and also readers by the sensitive and explosive subject of the representation of Holocaust perpetrators. I compare four texts of German Väterliteratur with Jonathan Littell's "The Kindly Ones" to examine the questions of aesthetics and ethics in the literary representation of Holocaust perpetrators, and if we can deduce their motives and motivations from these representations. The examination of these Holocaust perpetrator representations is an important contribution to our understanding of the past as well as a contribution to the formation of public cultural memory and identity.
All of the examined narratives form part of a continuously growing body of literary expressions of the Holocaust perpetrator and highlight a distinct obligation to the history they narrate – be it fictional or real.
My research includes a comparative literary analysis of authentic narratives featuring fictional perpetrators in order to find meaning in these representations that enable the reader to form not only a connection with a dark part of the German past but also with post-war and post-unification debates on the representation of the Holocaust. It also demonstrates a recognition that Holocaust perpetrators are as multifaceted and multidimensional as the narratives they occupy.
My thesis is not an exhaustive compilation but rather forms a small sample discussion that enables the reader to emphasise the Holocaust perpetrator. The narratives representing Holocaust perpetrators in contemporary literature serve to transmit history into the future as part of public and personal memory discourse, and the remembrance of history.
Keywords
Littell; Holocaust; Vaterliteratur; Perpetrator
Rights
Copyright Claudia Schnippering