Attribution bias in individual and team sport : a comparison using a within-groups design in indoor bowls
(1991)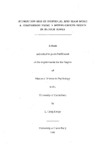 View/Open
Type of Content
Theses / Dissertations
Thesis Discipline
Psychology
Degree Name
Master of Science
Language
English
Collections
Abstract
This study compared the success/failure attributions made by the same individuals competing alone and within teams (of four players) in indoor bowls competition. This is the first sport-attribution study to examine individual/ team differences using such a within-groups design. The benefit of this design is that it controls for: (a) possible personality differences between players in individual and in team sports, and (b) situational differences that exist between different sports. Solicited causal attributions were rated along locus, controllability, stability, and globality scales. In addition, multiple loci scales (referring to the: self, rest of team, whole team, opposition, and external circumstances) were used to assess the locus and controllability dimensions. Results were generally consistent with predictions. In the individual competition, winners as compared to losers, made more internal, controllable, stable, and global attributions. In team competition, winners as compared to losers, made more internal and controllable attributions (from the self, rest of team and whole team perspective), and more stable attributions. Also, moderate externality effects were shown in both individual and team competition. The results were interpreted as showing self-serving biases in the individual competition, and both self- and team-serving biases in the team competition. In team competition, however, team-serving interests clearly dominated.· Other variables examined in relation to player's causal attributions, included player's pre-game perceived importance of outcome and expectations of success, and post-game perceptions of success. Discussion focusses on the individual/ team differences in causal attributions and the related attributional variables.
Keywords
Attribution (Social psychology); Individual sports--Psychological aspects; Teamwork (Sports)--Psychological aspects; Indoor bowls--Psychological aspects
Rights
All Rights Reserved
Related items
Showing items related by title, author, creator and subject.
Nordstrand, Julien C

(

University of Canterbury

,

1996

)

Previous literature has shown that there is a positive relationship between cohesion and performance in team-based sports. The reported research extends this relationship in two ways. First the relationship between cohesion ...

Recent reform within the New Zealand Justice Department's Penal Division has introduced changes in management structure, staff duties, and programme services, as part of the new vision to provide equal balance between ...

Hooton, Elizabeth Louise

(

University of Canterbury

,

1999

)

The purpose of the present study was to establish whether sensation seeking, achievement, and social desirability are imp01iant motives for participation in the high risk sport, rock climbing, and for the adventure ...