Dementia and COVID-19 in New Zealand, Chile, and Germany: A Research Agenda for Cross-Country Learning for Resilience in Health Care Systems
(2021)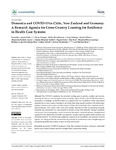 View/Open
Type of Content
Journal Article
ISSN
2071-1050
Collections
Authors
Laporte Uribe F
Arteaga O
Bruchhausen W
Cheung G
Cullum S
Fuentes-García A
Castillo CM
Kerse N
Muru-Lanning M
Salinas Ríos RA
Schrott L
Slachevsky A
Roes M
kirk, ray
show all
Abstract
The COVID-19 pandemic has revealed existing gaps in policies, systems and services, stressing the need for concerted global action on healthy aging. Similar to the COVID-19 pandemic, dementia is a challenge for health systems on a global scale. Our hypothesis is that translational potential lies in cross-country learning by involving three high-income countries with distinct geo political-cultural-social systems in Latin America (Chile), the South Pacific (New Zealand) and Eu rope (Germany). Our vision is that such cross-country learning will lead to providing adequate, equitable and sustainable care and support for families living with dementia during a pandemic and beyond. We are proposing a vision for research that takes a multi-disciplinary, strength-based approach at the intersection of health care research, disaster research, global health research and dementia research. We present some insights in support of our hypothesis and proposed research agenda. We anticipate that this research has the potential to contribute towards strengthening and transforming health care systems in times of crises and beyond.
Citation
Laporte Uribe F, Arteaga O, Bruchhausen W, Cheung G, Cullum S, Fuentes-García A, Castillo CM, Kerse N, Kirk R, Muru-Lanning M, Salinas Ríos RA, Schrott L, Slachevsky A, Roes M (2021). Dementia and COVID-19 in New Zealand, Chile, and Germany: A Research Agenda for Cross-Country Learning for Resilience in Health Care Systems. Sustainability. 13(18).
This citation is automatically generated and may be unreliable. Use as a guide only.
Keywords
dementia; COVID-19 pandemic; Chile; New Zealand; Germany; resilience; sustainable health care systems; disaster research; strength-based; community setting
ANZSRC Fields of Research
42 - Health sciences::4203 - Health services and systems
44 - Human society::4407 - Policy and administration::440706 - Health policy
Rights
All rights reserved unless otherwise stated
Related items
Showing items related by title, author, creator and subject.
Lustig A

;

Vattiato G

;

Maclaren O

;

Watson L

;

Datta S

;

Plank, Michael

(

2022

)

Diprose G

;

Sharp E

;

Graham R

;

Lee L

;

Richardson S

;

Watkins A

;

Martin-Neuninger R

;

Dombroski, Kelly

;

Scobie, Matthew

(

MDPI AG

,

2020

)

The COVID-19 pandemic and associated response have brought food security into sharp focus for many New Zealanders. The requirement to "shelter in place" for eight weeks nationwide, with only "essential services" operating, ...