A minor political party in New Zealand : the Canterbury and Otago branches of the Values Party
(1974)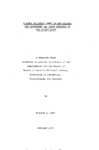 View/Open
Type of Content
Theses / Dissertations
Thesis Discipline
Political Science
Degree Name
Master of Arts
Language
English
Collections
Abstract
This paper is about the Values Party, a new and interesting addition to the New Zealand political scene in 1972. Of necessity it is a discussion composed of two closely related elements, the electoral system and the Values Party as a minor party in that system. Consequently this paper seeks to analyse that system and Values' place in it, and by so doing place in the proper perspective the composition and views of Values Party supporters in Canterbury and Otago. Of all the problems which face the Values Party as a new minor party in New Zealand, the national electoral situation and its effect is initially the most significant.
Keywords
New Zealand Values Party; Political parties--New Zealand; Voting--New Zealand
Rights
All Rights Reserved
Related items
Showing items related by title, author, creator and subject.
Lewis, James Philip

(

University of Canterbury. Social and Political Sciences

,

2010

)

The Labour Party is New Zealand's oldest continuous political Party. Steeped in Social Democratic tradition the Party underwent major conflicts as three major factions emerged between 1978 and 1990. Using Frank Baumgartner's ...

Taylor, Martin John

(

University of Canterbury

,

1999

)

In 1996 New Zealand changed its electoral system to a proportional representation system known as Mixed Member Proportional (MMP). The new electoral system affected many areas of New Zealand politics from the number of ...