Adolescent romantic relationships : attachment and emotion regulation
(2004)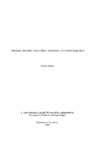 View/Open
Type of Content
Theses / Dissertations
Thesis Discipline
Psychology
Degree Name
Master of Arts
Language
English
Collections
Abstract
This study investigates adolescent conceptualizations of romance, and explores some preliminary data on relational demographics in order to test the applicability of relevant developmental theories to the New Zealand context. The primary focus however, is an examination of conceptual and statistical associations between attachment, emotion regulation and romantic relationship satisfaction. A sample of 70 females and 35 males aged 14-19 was drawn from 5 Christchurch high schools, as well as a first stage course at the University of Canterbury. Respondents provided basic information about their current or last romantic relationship, and assessed it using the Perceived Relationship Quality Components Inventory (Fletcher, Simpson & Thomas (2000). Collins & Read's (1990) Adult Attachment Scale was used to establish a dimensional attachment orientation, and the use of reappraising and suppressive emotion regulation strategies was measured using Gross & John's (2003) Emotion Regulation Questionnaire.
Results indicate general reliance on emotional suppression, however securely attached girls were more likely to employ reappraising strategies than anxious or avoidant females. Girls' relationship satisfaction was strongly associated with reduced levels of emotional suppression, suggesting a link between attachment style, regulatory efficacy, and relational satisfaction. The strong gender differences apparent from these data are explored within their social context. Methodological and philosophical limitations of this work are discussed, which may be considered in future research on the subject.
Keywords
Love in adolescence; Interpersonal relations in adolescence; Attachment behavior in adolescence; Emotions in adolescence
Rights
All Rights Reserved
Related items
Showing items related by title, author, creator and subject.
Hammond, Jean R. (Jean Reid)

(

University of Canterbury

,

1990

)

This longitudinal study examined the role of Hazan and Shaver's (1987) attachment theory of romantic love in the development of close relationships of fifty-one couples in steady or serious dating relationships. The relations ...

This study tested and compared three models of the way multiple attachment working models are cognitively organized and structured. Model 1 suggests that attachment representation consists of relationship-specific working ...

Vertue, Frances-Mary

(

University of Canterbury

,

1998

)

While the relationship between the expression of positive emotion and likability has been established, the relationship between the expression of positive emotion and the experience of positive emotion during the employment ...