The relationship between life stress and sporting injuries
(1991)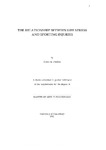 View/Open
Type of Content
Theses / Dissertations
Thesis Discipline
Psychology
Degree Name
Master of Arts
Language
English
Collections
Abstract
This study was designed to investigate the relationship between life stress and sporting injuries, and factors mediating that relationship. Eighty two Soccer players and sixty eight Rugby players had their injuries recorded for a three month period. Subjects were then administered the Social and Athletic Readjustment Rating Scale (Bramwell, Masuda, Wagner, & Holmes, 1975), a measure of life stresses for athletes, along with the Test of Attentional and Interpersonal Style (Nideffer, 1976), and the Sport Competition Anxiety Test.
(Martens, 1977). The results indicated a relationship between high life stress and sporting injuries for Rugby players, but not for Soccer players. No significant differences in life stress scores were found for those players categorized as having suffered minor, moderate, or major injuries. Competitive Trait Anxiety, attention, and fatigue were examined as moderator variables in the life stress/sporting injury relationship, and were found to have no significant effects. It was concluded that the differences between Rugby and Soccer players in the life stress/ sporting injury relationship may be due to differences in a number of variables, particularly Trait Anxiety. While partially supporting past research, the findings indicated that further investigation into the life stress/sporting injury relationship is required.
Rights
All Rights Reserved
Related items
Showing items related by title, author, creator and subject.
Munnerley, Glenn M

(

University of Canterbury

,

1988

)

Auditory brainstem response (ABR) thresholds to masked tone pip stimuli, were obtained for 3 groups of hearing impaired subjects. Using high pass noise at 500 Hz and notched noise at 1,2, and 4 kHz, ABR thresholds in low ...

van Berkel, Haley Kathryn

(

University of Canterbury. Psychology

,

2009

)

Our personality and the way we cope with stress are two factors that are important in the development of psychological distress. The current study explored the relationship between personality, coping styles and psychological ...

Ye, Qian

(

University of Canterbury

,

2018

)

Technostress experienced by individuals at workplaces has increased in last ten years. Exploring technostress in depth is crucial. The present study extended technostress research by focusing on the moderating roles of ...