Embarrassment associated with somatic symptoms of anxiety in people with, and without, panic attacks
(2004)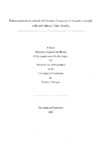 View/Open
Type of Content
Theses / Dissertations
Thesis Discipline
Psychology
Degree Name
Master of Arts
Language
English
Collections
Abstract
A number of studies have found an association between embarrassment/social-evaluative concerns and increased levels of agoraphobia. However, previous research has revealed inconsistent findings with regard to an association between agoraphobia and social phobia. The present study compared levels of symptom-related embarrassment between a community sample of 37 people who experience panic attacks, and 32 people who do not experience panic attacks. In addition, associations between levels of embarrassment, avoidance behaviour and agoraphobia were examined, as well as the potential influence of social phobia symptoms on these respective variables. Given that previous studies have not consistently assessed participants for co­ occurring social phobia when investigating embarrassment and avoidance behaviour, the present study incorporated the Social Phobia and Anxiety Inventory (SPAI) as a measure of social phobia symptoms.
In the present study, participants with panic attacks reported significantly greater levels of embarrassment than participants who do not experience panic attacks, thereby replicating the differences reported by Katerndahl (2000). Greater embarrassment was also associated with higher levels of avoidance behaviour and agoraphobia. Associations were observed between agoraphobia and social phobia scores, however, fear of negative social evaluation (a variable derived from a selection of SPAI items) predicted significantly more of the variance in both avoidance behaviour and agoraphobia, than did total social phobia scores. A tentative conclusion is that fear of negative social evaluation may be a feature of both agoraphobia and social phobia. Therefore, therapy addressing social-evaluative concerns may be helpful in improving treatment for people with PDA.
Keywords
Agoraphobia; Panic attacks; Embarrassment; Anxiety; Social phobia
Rights
All Rights Reserved
Related items
Showing items related by title, author, creator and subject.
Havell, Esma Anne

(

University of Canterbury. Psychology

,

2012

)

Following exposure to trauma, stress reactions are initially adaptive. However, some individuals' psychological response can become maladaptive with long-lasting impairment to functioning. Most people with initial symptoms ...

Dale, Karen Lee

(

University of Canterbury

,

1995

)

In a study investigating the relationship of self-evaluations to the co-occurrence of disordered eating and social anxiety, eating attitudes, social anxiety, body-satisfaction and self-esteem were examined in a non-clinical ...

Lemon, David John

(

University of Canterbury. Sociology

,

2004

)

This thesis investigates the experience of agoraphobia among one hundred research participants by focusing on how social interactions contribute to the onset, the unmanaged symptoms stage, and the managed symptoms stage ...