Psychology applied : a fusion of abduction and ergonomics
(2004)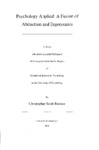 View/Open
Type of Content
Theses / Dissertations
Thesis Discipline
Psychology
Degree Name
Master of Science
Publisher
University of Canterbury
Language
English
Collections
Authors
Roosen, Christopher Scott
show all
Abstract
The world has an increasing number of problems, many of which involve a human­ technological component, the solution of which requires strong methods. To explore problem solving methods, I proposed the development of an abductive-ergonomics framework. This framework must support the generation of theories that will support design. To achieve this, I discussed psychology's current method, the hypothetico­-deductive method, suggesting that it is not a general method. As an alternative I discussed abduction, which provides a strong general method. I also explored the aims, perspectives, and unit of analysis offered by ergonomics. In the last chapter I proposed that abduction provides the control task structure to the real world domain described by ergonomics. The fusion between abduction and ergonomics provides the basis for the real world problem solving framework proposed in this thesis.
Keywords
Psychology--Methodology; Abduction (Logic); Human engineering
Rights
All Rights Reserved
Related items
Showing items related by title, author, creator and subject.
Bartneck, Christoph

(

2007

)

This paper argues that design methodology cannot become the science of design. A method does not constitute a science. Moreover, in the same way that biology is not a science of how biologists work, design science cannot ...

Thompson, Matthew Keith Marshall

(

University of Canterbury

,

1996

)

The purpose of this study was to critically explore the relationship between psychology and society. Many aspects of the powerful relationship that was found were discussed. In particular the lack of a social structural ...

Miller, Allan

;

Wood, Alan

;

Hwang, Michael

;

Lemon, Scott

;

Read, E. Grant

(

University of Canterbury. Electrical and Computer EngineeringUniversity of Canterbury. Management, Marketing, and EntrepreneurshipUniversity of Canterbury. Electric Power Engineering Centre

,

2015

)

Responding to the global challenges of maintaining energy security while combatting climate change, the New Zealand government has issued a target of generating 90% of the country's electricity needs from renewable sources ...