Unsafe sex, substance use and dangerous driving : predicting adolescents' risk-taking
(2004)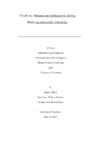 View/Open
Type of Content
Theses / Dissertations
Thesis Discipline
Psychology
Degree Name
Master of Arts
Publisher
University of Canterbury
Language
English
Collections
Abstract
Adolescence involves heightened experimentation in risk-taking behaviours that are potentially health damaging. To prevent the negative consequences of increased engagement in risk-taking behaviours, it is necessary to understand the factors that influence adolescents' participation. This study investigated the extent to which late adolescents' sex, risk judgments, self-efficacy for sexual behaviour and substance use, and sensation seeking predict likelihood to engage in risk-taking behaviour. Questionnaires were administered to 46 male and 43 female University of Canterbury students aged between 18 and 20 years. Results indicated that adolescent males have significantly lower perceptions of risk than females. However, there was a tendency for over-estimation of risk. There was the predicted negative relationship between risk perception and likelihood to engage in risk-taking behaviours. Stepwise regression analyses indicated that sensation seeking was the main predictor of risk-taking likelihood, accounting for 36.8% of the variance. The inclusion of risk perception explained an additional 4.7% of the variance. Lower self-efficacy was also significantly related to higher risk-taking likelihood. Implications for adolescent risk intervention and education programmes will be discussed.
Keywords
Risk-taking (Psychology) in adolescence; Risk perception; Self-efficacy; Teenagers--Sexual behavior--Psychological aspects; Teenagers--Substance use--Psychological aspects; Teenage automobile drivers--Psychology
Rights
All Rights Reserved
Related items
Showing items related by title, author, creator and subject.
Aitken, Katherine L.

(

University of Canterbury. Psychology

,

2003

)

The purpose of this study was to examine the relationship between personality characteristics (Five-factor model; Costa & McCrae, 1992), contraceptive self­ efficacy (CSE; Levinson, 1986) and ...

Wilson, Leonie

(

University of Canterbury

,

1996

)

DWD offenders represent a significant proportion of the driving offender population, and contribute to a significant drain on governmental and societal resources. The reoffence process of recidivist Driving While Disqualified ...

Allardyce, Alexander Bayford

(

University of Canterbury

,

1992

)

Quantitative and qualitative measures were used to assess the psychological skills of nine Elite, six Pre-elite, and four Non-elite triathletes, as well as the benefits derived by each group from these skills. It was ...