Emotion regulation and coping of young witnesses
(2003)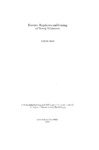 View/Open
Type of Content
Theses / Dissertations
Thesis Discipline
Psychology
Degree Name
Master of Arts
Publisher
University of Canterbury
Language
English
Collections
Abstract
This study examined coping strategies in potential and previous young court witnesses in an attempt to address the present lack of attention to child witnesses within the coping literature, despite the consensus of opinion that many of these persons find their court appearance to be stressful. A sample of 30 court witnesses, ranging from 9-16 years of age (M = 13.28 years, ±2.09) and their primary caregivers independently completed an age-appropriate version of the 'Kidcope' (Spirito, Stark, & Williams, 1988) self-report coping questionnaire. Individual coping items were clustered by strategy type (e.g., Emotion-/Problem-Focused and Cognitively-/Behaviourally­ Based), with analyses focusing upon coping strategy usage, perceived effectiveness and other potentially impacting situational variables.
Study findings, discussed in the context of developmental theory, show age-related differences in the use of cognitively- and behaviourally-based coping strategies. Overall, a preference for the use of emotion-focused coping strategies, rather than problem-focused coping strategies, was found regardless of age. Furthermore, higher levels of agreement, concerning coping strategy usage and perceived effectiveness, are evident between the older (12-17 years) parent/caregiver-child dyads in this study and support for the sibling tutoring effect is also reported. This study highlights the need for further study in this area and provides a solid foundation on which the further investigation into the coping behaviours of young witnesses, and potential interventions, can be based.
Keywords
Child witnesses--Psychology; Adjustment (Psychology); Emotions in children
Rights
All Rights Reserved
Related items
Showing items related by title, author, creator and subject.
Dowling, Rebecca Ann

(

University of Canterbury. Health Sciences

,

2014

)

The role of emotion within the reformulated Social Information Processing (SIP) Model of Children's Social Adjustment (Crick and Dodge, 1994) has not been well investigated, particularly for young children. A developmental ...

Austin, Sarah Leigh

(

University of Canterbury

,

2004

)

This thesis describes the construction of a new children's self-report scale for 8 -12 year olds, measuring emotion regulation in middle childhood. Emotion Regulation represents an individual's attempts to modulate their ...

Ferguson, Beth Rosemary

(

University of Canterbury. School of Educational Studies and Human Development

,

2008

)

The study of character strengths is a relatively new area of research within the realm of positive psychology. Character strengths likely develop during childhood and therefore studying young children's capacities for ...