Positive behavioural contrast : response suppression and the signalling of reinforcement
(1970)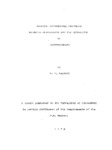 View/Open
Type of Content
Theses / Dissertations
Thesis Discipline
Psychology
Degree Name
Master of Arts
Publisher
University of Canterbury
Language
English
Collections
Abstract
In two experiments the effects of a hitherto unused technique to suppress responding by pigeons in one comp­onent of a mult VI20 VI20 schedule were explored. This technique involved the presentation of a lighted bulb (called the stimulus-correlated-with-reinforcement, or SCR) which signalled the immediate availability of response produced reinforcement. Results were interpreted as offering no support to current hypotheses relating to necessary and sufficient conditions for observations of positive behavioural contrast. Further SCR experiments aimed at clarifying the need to postulate stimulus aversiveness and the function of inhibition in explanations for positive interactions, were outlined. These incorporate orthogonal dimensions for com­ponent discriminative stimuli and SCR, and shorter mean inter-reinforcement intervals. A variant of the SCR tech­nique by which brief presentations of the constant component discriminative stimulus constitutes the SCR, was suggested as a possible device for manipulating S2 response rate as an independent variable. It was concluded that the SCR technique appears to have a useful future in similar research because it minimally interferes with schedules and other conditions in the exp­ erimental chamber, and that an analysis of interaction effects may be possible in terms which exclude reference to inhibition and aversiveness, and refer solely to relat ive excitatory strengths of the stimuli used.
Keywords
Behaviorism (Psychology)
Rights
All Rights Reserved
Related items
Showing items related by title, author, creator and subject.
Marshall, Thomas Deans

(

University of Canterbury

,

1981

)

In order to study the influence of rate of attenuation of reinforcement on the occurrence and strength of behavior contrast effects in the rat, nine subjects were divided into three groups corresponding to 3 session, 1 ...

Stenhouse, Kirk Francis

(

University of Canterbury

,

1999

)

Direct Interaction theories of Hermstein and later Williams and Wixted see contrast as due to the direct effects of reinforcement in one component on responding in another component despite temporal separation in the ...

Hendey, Dianne

(

University of Canterbury

,

1987

)

The object of this study was to investigate the differential impact of types of learning points in Behaviour Modelling Training. It was hypothesised that having both positive and negative learning points would result in ...