An empirical investigation of the reference-tone hypothesis of absolute pitch
(1971)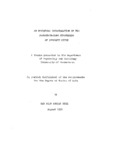 View/Open
Type of Content
Theses / Dissertations
Thesis Discipline
Psychology
Degree Name
Master of Arts
Publisher
University of Canterbury
Language
English
Collections
Abstract
Three musicians, highly proficient in the absolute identification of piano tones, were required to re- produce on an oscillator, three target tones by the method of adjustment. The subjects, in varying degrees, demonstrated high levels of consistency and accuracy of response relative to International Standard Pitch. Using the same subjects, the reference tone hypothesis was then put to test in the context of a pitch recognition task where accuracy and latency of response were the dependent variables. Lack of support for the experimental hypotheses might have been due to certain artifacts of the method used.
Keywords
Music--Psychological aspects; Musical pitch; Sound--Psychological aspects
Rights
All Rights Reserved
Related items
Showing items related by title, author, creator and subject.
Sinclair, Lynley E.

(

University of Canterbury

,

1986

)

The purpose of this study was to examine the phenomenon of knowing that a melody is familiar but being unable to name it. The occurrence and nature of such a "Tip of the Tongue" (TOT) state induced by musical stimuli was ...

O'Connor, Francis Gregory

(

1982

)

A set of fourteen three-note musical sequences was generated. These were presented to eleven musically experienced subjects. Similarity ratings among sequences and semantic differential ratings of emotional expressions ...

In this replication study, 40 women who experienced regular menstrual cycles and did not use oral contraception read passages , that were manipulated across three independent variables, mood state (positive or negative), ...