Cross-cultural transitions : a predictive model of psychological and socio-cultural adjustment
(1989)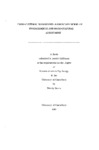 View/Open
Type of Content
Theses / Dissertations
Thesis Discipline
Psychology
Degree Name
Master of Arts
Publisher
University of Canterbury
Language
English
Collections
Abstract
This study is an attempt to develop predictive models of both Psychological and Socio-Cultural Adjustment. These are examined in relationship to the following variables: expected difficulty, cultural distance, extent of social interaction with both New Zealanders and fellow nationals, satisfaction with social relationships, attitudes towards New Zealanders, extraversion, life changes as well as personal variables such as age, sex, length of residence in New Zealand and previous cross-cultural experience. One hundred and five Malaysian and Singaporean students participated in the study. Using Multiple Regression analysis two models were developed. Satisfaction with relationships with New Zealanders, extraversion, life changes and socio-cultural adjustment combined to account for 34% of the variance in psychological adjustment. Cultural distance, expected difficulty and psychological adjustment combined to account for 36% of the variance in socio-cultural adjustment. Thus, although psychological and socio­ cultural adjustment are inter-related the need to regard these as distinct and related to different factors is highlighted.
Keywords
Acculturation--New Zealand; Culture shock--New Zealand; Cross-cultural studies--New Zealand; Adjustment (Psychology)
Rights
All Rights Reserved
Related items
Showing items related by title, author, creator and subject.
Rogers, Joy

(

University of Canterbury

,

1991

)

The literature regarding cross-cultural transitions has tended to focus on sojourners travelling abroad, especially students. The phenomena associated with re-entry however, appears to have been largely ignored. The present ...

Kennedy, Antony Donald

(

University of Canterbury

,

1994

)

This study explored the relationship between personality, cultural fit (similarity between sojourners and hosts), and psychological adjustment during cross-cultural transitions. One hundred and twenty four AFS student ...

Martin R

;

Denston A

;

Fickel L

;

O'Toole V

(

2021

)

The overall purpose of the research was two-fold: 1) to develop a context-sensitive, shared understanding of socio-emotional wellbeing and learning with teachers; and 2) to support teachers in developing and implementing ...