The Development of Rocketry Capability in New Zealand—World Record Rocket and First of Its Kind Rocketry Course
(2015)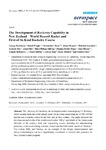 Type of Content
Journal Article
Publisher
University of Canterbury. Electrical and Computer Engineering
University of Canterbury. Mechanical Engineering
ISSN
2226-4310
Collections
Authors
Buchanan, G.,
Wright, D.,
Hann, C.,
Bryson, H.,
Snowdon, M.,
Rao, A.,
Slee, A.,
Sültrop, H.P.,
Jochle-Rings, B.,
Barker, Z.,
McKinstry ., A.,
Meffan ., C.,
Xian, G.,
Mitchell, R.,
Chen, X.Q.
show all
Abstract
The University of Canterbury has developed a rocket research group, UC Rocketry, which recently broke the world altitude record for an I-class motor (impulse of 320–640 Ns) and has run a rocketry course for the first time in New Zealand. This paper discusses the development and results of the world record rocket "Milly" and details all the fundamental elements of the rocketry final year engineering course, including the manufacturing processes, wind tunnel testing, avionics, control and the final rocket launch of "Smokey". The rockets Milly and Smokey are an example of the design, implementation and testing methodologies that have significantly contributed to research and graduates for New Zealand's space program.
Citation
Buchanan G., Wright D., Hann C., Bryson H., Snowdon M., Rao A., Slee A., Sültrop H.P., Jochle-Rings B., Barker Z., McKinstry A., Meffan C., Xian G., Mitchell R. and Chen X.Q. (2015) The Development of Rocketry Capability in New Zealand—World Record Rocket and First of Its Kind Rocketry Course. Aerospace, 2015(2), pp. pp. 91-117.
This citation is automatically generated and may be unreliable. Use as a guide only.
Keywords
rocketry; solid propellant rocket; canard actuation; wind tunnel; PD control; machining; avionics
ANZSRC Fields of Research
09 - Engineering::0901 - Aerospace Engineering::090108 - Satellite, Space Vehicle and Missile Design and Testing