To Veil Or Not To Veil: Examining the Dynamics of Race and Sexuality within the French Hijab Ban
(2021)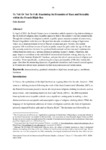 View/Open
Type of Content
Journal Article
Publisher
Project Monma Research Centre
ISSN
2463-2945
Abstract
In April of 2021, the French Senate chose to introduce added expansive legislation relating to the visibility of religious dress in public spaces to bolster the country's secular commitments. Though the existence of religious symbols in public spaces remains a matter of controversy, France's legislative body has over the past two-decades introduced a string of legislation which has a disproportionate effect of Muslim women and girls. Namely, the current proposed bill would ban the use of hijabs in public spaces for girls under the age of 18, and this severely restrictive decision has gathered both national and international condemnation within feminist circles as a perverse attempt at policing women's bodies. Therefore, this paper hopes to contribute to the rich field of intersectional feminist writing, drawing on the work of black feminist Kimberlé Crenshaw, and provide added consideration of religion and sexuality. More specifically, in addressing the unique positionality of Muslim women this paper identifies the interacting dynamics of gendered orientalism and women's sexual agency in Western neo-liberal states promotes further marginalisation and victimisation
Keywords
feminism; neoliberal; sexual agency; hijab ban; gendered orientalism; intersectionality
Rights
Creative Commons Attribution 4.0 International License.
Attribution 4.0 International
---
Except where otherwise noted, this item's license is described as Creative Commons Attribution 4.0 International License.
Related items
Showing items related by title, author, creator and subject.
Roy, Suparna

(

Project Monma Research Centre

,

2021

)

Stevie Jackson and Jackie Jones in their article- Contemporary Feminist Theory said that Jackson says "The concepts of gender and sexuality as a highly ambiguous term, as a point of reference". Sexual orientation is an ...

Due Theilade, Karen

(

University of Canterbury. School of Social and Political Sciences

,

2011

)

Poststructuralist and other critical analyses of sexuality, gender and identity are used to examine how New Zealand and Danish young adults drew on and challenged available discourses as they responded to representations ...

Garrie, Barbara Anne Christina

(

University of Canterbury. Art History and Theory

,

2012

)

This thesis considers the links between identity and landscape in key works by American artist Roni Horn, focusing on a selection of her photo-installations and books. In particular it argues that Horn approaches landscape ...