Rats and relations : social structure theory and some affects of group size and change in size on the rat's behaviour
(1973)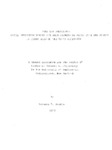 View/Open
Type of Content
Theses / Dissertations
Thesis Discipline
Psychology
Degree Name
Master of Science
Publisher
University of Canterbury
Language
English
Collections
Abstract
A model of the population structure of social animals as a complex of small, partly isolated breeding-groups is presented. This pattern is contended to be determined by the population- genetic evolution of social behaviour. The model is contrasted with those based on population density regulation and its dynamic nature is tested by manipulating group size and change of group size in two strains of laboratory rats. The findings that group size can affect behaviour frequency and that following a change in group size both old and new group size effects, which parallel the unchanged group size effect, are present are interpreted as evidence for a mechanism capable of maintaining a breeding group while allowing that group to adapt itself to changes. The effect of the original group (the conservative effect), which is stronger in males than in females, is considered to favour groups unchanged in size in view of its production of potentially inappropriate behaviour in the new situation. The effect of the new group size (the adaptive effect) is considered to give flexibility The mechanism, seen as operating through memory and learning, can be related on the one hand to observed intraspecific variations in social structure, and on the other to such fixed factors as the larger role played by males in group maintenance. This latter finding is supported in the present study by a greater amount of fighting recorded among males.
Keywords
Animal societies; Rats--Behavior; Social behavior in animals
Rights
All Rights Reserved
Related items
Showing items related by title, author, creator and subject.
Bowker, Peter Stanley

(

1975

)

Social and sensory characteristics of post-weaning rearing environments interact to affect the behaviour of rats in a multiple Y maze, on measures of ambulation, emergence latency and weight. On measures of running time, ...

Nelson XJ

;

Wilson DR

;

Evans CS

(

WILEY-BLACKWELL

,

2008

)

Individuals of many species differ consistently in their behavioral reactions toward different stimuli, such as predators, rivals, and potential mates. These typical reactions, described as 'behavioral syndromes' or ...

Love, Nicholas Charles

(

University of Canterbury

,

1999

)

Previous literature has shown that negative stereotypes are susceptible to change under the right conditions. The reported research extended the literature on stereotype modification by investigating the effects of stereotype ...