An investigation of the relationship between personality and performance on a probability learning task
(1963)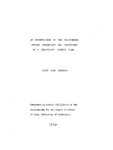 View/Open
Type of Content
Theses / Dissertations
Thesis Discipline
Psychology
Degree Name
Master of Arts
Publisher
University of Canterbury
Language
English
Collections
Abstract
Considerable experimentation and theorizing has been directed towards explaining personality and psychological abnormality aa a consequence of learned mechanisms. Conditioned response theories of the neuroses have been especially influential, and aberrant behaviour patterns (experimental neuroses) have been induced in animals by a variety of techniques. Marked individual differences in response to conditioning are typically observed, and theories have been advanced to account for this. The present study involves a probability learning task, having analogies with conditioning, but using neither aversive stimuli nor material rewards and requiring only verbal responses from the subject. Three groups of subjects carried out the task; two groups of neurotics, considered to differ in degree of extraversion-introversion (following Eysenck' system) and a group of normal controls. Differences between groups on the experimental task were found to be significant and in the order predicted by extending Eysenck's hypothesis to probability learning.
Keywords
Learning, Psychology of; Personality; Personality and probability learning
Rights
All Rights Reserved
Related items
Showing items related by title, author, creator and subject.
Strack, T. L.

(

University of Canterbury

,

1989

)

A survey and an inventory were administered to investigate the relationship between caffeine ingestion and personality attributes of the 34 student volunteers. The research was carried out in two parts. Firstly, average ...

Abbott, Max Wenden

(

University of Canterbury

,

1977

)

Two weaknesses are particularly evident in the now extensive learned helplessness (LH) literature. The first is the lack of fit between operational definitions and the predicted results. The second is the inability of the ...

Thompson, Matthew Keith Marshall

(

University of Canterbury

,

1996

)

The purpose of this study was to critically explore the relationship between psychology and society. Many aspects of the powerful relationship that was found were discussed. In particular the lack of a social structural ...