Concept dominance : orders of dominance among concepts of colours and shapes in pre-school children
(1967)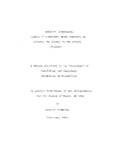 View/Open
Type of Content
Theses / Dissertations
Thesis Discipline
Psychology
Degree Name
Master of Arts
Publisher
University of Canterbury
Language
English
Collections
Abstract
This study is concerned with the relative dominance of shape end colour concepts in pre-school children; the way in which this dominance is affected by such factors as age, certain variations in the stimuli, and the subject's understanding of what he is doing during the experiment.
Results showed that twice as many subjects matched by colour as matched by shape, and that on the whole the stimulus variations used here had little effect on the subjects' choices. Subjects' spontaneous comments shed some light on what they were thinking during the experiment. Further investigation is needed to obtain more precise details of the circumstances under which children attend to colour rather than shape or shape rather than colour. On the whole, matching behaviour was consistent over time, although a few subjects were very unreliable. The reasons for this unreliability, different for each subject, are discussed in detail. It is now clear that children of the same age react differently to the stimuli, so future studies should take account of these individual differences among subjects.
Keywords
Child psychology; Perception
Rights
All Rights Reserved
Related items
Showing items related by title, author, creator and subject.
Tierney, Courtney Wikitoria

(

University of Canterbury

,

2020

)

There are limited studies in Aotearoa (New Zealand) which focus on physical aggression and relational aggression during early childhood. Of the few which do exist (e.g., Swit, 2018, 2019) the findings are predominantly ...

Penney, Malena J.

(

University of Canterbury

,

2019

)

Recently rates of Food Allergies (FA) in children have been increasing in prevalence. International research has shown FA is associated with impaired Health-Related Quality of Life (HRQoL) as well as increased anxiety ...

Thompson, Phoebe Annie Patricia

(

University of Canterbury. Communication Disorders

,

2008

)

The present study tested the hearing of primary school children, in three different years, from four schools in the Christchurch area. 195 children participated in the study. Testing was undertaken on school grounds and ...