The effect of imagery and relaxation/imagery training on rugby players' self-efficacy, anxiety and performance in tackling
(1994)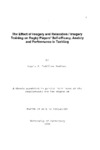 View/Open
Type of Content
Theses / Dissertations
Thesis Discipline
Psychology
Degree Name
Master of Arts
Publisher
University of Canterbury
Language
English
Collections
Abstract
Volunteer male rugby players (n=30) were assigned to one of three conditions: Relaxation and imagery training, imagery only training or a control group. The subjects were required to complete self-efficacy and state anxiety questionnaires, prior to and on the completion of imagery training. When the intervention was completed all subjects were required to perform three front-on tackles. The subjects were subsequently rated on their tackling performances. Both imagery training groups had significantly higher self-efficacy and expert rated performance when compared to the control group. There was no significant differences found between the three groups in anxiety or self-rated performance. The two treatment groups did not differ significantly in any of the dependent measures. A positive correlation was found between self-efficacy and performance and a significant negative correlation was found between anxiety and performance. However, no significant inverse relationship was found between anxiety and performance. These results provide support to the possible merits of imagery training and provide partial support to Bandura's (1977a) theoretical model of self-efficacy. Pratical implications and directions for future research are discussed.
Keywords
Relaxation--Psychological aspects; Imagery (Psychology); Rugby football players--Psychology; Tackling (Football)--Psychological aspects
Rights
All Rights Reserved
Related items
Showing items related by title, author, creator and subject.
Dudson, Mike

(

University of Canterbury

,

1993

)

This study was designed to investigate the effects of goal setting on volleyball serving performance. Subjects were matched by experience and assigned randomly to either a goal group or instruction group. The goal group ...

Purdon, D. G.

(

University of Canterbury

,

1985

)

This study was designed to test the effects of mental preparation and trait anxiety level on the motor performance of a group of rugby players. The Sport Competition Anxiety Test (Martens, 1977) was administered to subjects ...

Rasmusen, Anthony (Bob) Robert

(

University of Canterbury

,

2016

)

Some consider self-efficacy to be the most important psychological construct contributing to sporting performance. To test five hypotheses regarding the nature of relationships between performance and self-efficacy, and ...