Primary school teachers' acceptability ratings of six procedures for correcting oral reading errors
(1986)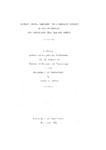 View/Open
Type of Content
Theses / Dissertations
Thesis Discipline
Psychology
Degree Name
Master of Science
Publisher
University of Canterbury
Language
English
Collections
Abstract
The aim of the present study was to measure primary school teachers' acceptability ratings of six oral reading error correction procedures. One hundred and twenty primary school teachers, ranging in age from 21 years to 59 years, completed a Treatment Evaluation Inventory which was used to measure acceptability. The six error correction procedures rated were: word supply, phonics, delay, previewing, drill, and overcorrection. Each participant received a case description of a male or female reader, six oral reading error correction procedures, and six treatment evaluation inventories. Participants were required to evaluate the acceptability of the error correction procedures, using one of the treatment inventories for each procedure, Results were analyzed using a latin square analysis of variance, Statistically significant differences were found between the ratings for the six procedures. Previewing was rated as the most acceptable procedure, followed by delay, phonics, word supply, drill, and over-correction. Separate analysis of variance showed a significant interaction between qualification and evaluation, and the number of years taught and evaluation.
Keywords
Oral reading; Reading -- Remedial teaching -- Evaluation.
Rights
All Rights Reserved
Related items
Showing items related by title, author, creator and subject.
Healey-Hughes, Sarah Eve

(

University of Canterbury. Educational Studies & Leadership

,

2014

)

Empathy development programmes (EDP) are currently implemented in several New Zealand primary schools. Research has indicated a variety of potentially beneficial outcomes to these programmes yet a gap in literature is ...

O'Rourke, Brian T.

(

University of Canterbury. School of Educational Studies and Human Development

,

1972

)

This study is concerned with assessing the validity of the contention that the effectiveness of a teaching method utilized by lecturing staff within the Primary Division of a Teachers' College might be increased by modifying ...

Wilson, Susanna Mary

(

University of Canterbury. Educational Studies and Human Development

,

2010

)

Knowledge about how to teach remains a contentious issue in the preparation of final year pre-service teachers. This study, informed by the work of Shulman (1986) and Grossman (1990), examines knowledge for mathematics ...