Feeling fed-up in adolescence : an exploratory study
(1991)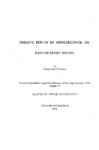 View/Open
Type of Content
Theses / Dissertations
Thesis Discipline
Psychology
Degree Name
Master of Arts
Publisher
University of Canterbury
Language
English
Collections
Abstract
The current study aimed at extending the scanty knowledge on the experience of everyday emotions in adolescence into an area previously unexamined, i.e., feeling "fed-up". The sample comprised 2.39 predominantly white New Zealand school pupils ranging in age from 10.5 to 15 years. Three variables were examined pertaining to developmental progression (age & pubertal status) and gender. Subjects completed a two part self-report questionnaire. The first section collected personal data and information on the frequency and duration, antecedents and behaviours associated with feeling "fed-up". A modified form of the DES IV comprised the second section with the intention to measure the patterns of emotions present within this state. The results indicate that feeling "fed-up", on average, is a reasonably frequent · (few times per week) and short-term experience (less than half an hour). Pubertal status was found to effect the experienced duration of this state. The principle antecedents cited were everyday adolescent stressors (parents, school ,peers,etc.) rather than major global concerns. Most subjects coped with feeling "fed-up" by withdrawal or seeking entertainment. An increased variety and change of coping strategies was noted with age and pubertal maturation where more subjects used verbal ventilation and physical activities to cope. DES findings indicate that anger is the most prominent emotion in feeling "fed-up" followed by sadness and shame. Gender differences in emotion profiles suggest that feeling "fed-up" may be more unpleasant for females as they experienced significantly more frequent anger, sadness, and inner hostility and significantly less joy and interest than males. Overall, the current findings indicate that feeling "fed-up" is a short-term reactive emotional state that is sensitive to gender and developmental influences and which activates adolescents to act on and change their environment in an adaptive way.
Keywords
Emotions in adolescence; Boredom; Discontent
Rights
All Rights Reserved
Related items
Showing items related by title, author, creator and subject.
Christensen A

;

Griffiths C

;

Gorse G

;

Radley D

;

Hobbs, M.

(

Elsevier BV

,

2021

)

Background: There continues to be a lack of understanding as to the geographical area at which the environment exerts influence on behaviour and health. This exploratory study compares different potential methods of both ...

Barnhart-Thomson, Greta

(

University of Canterbury. Psychology

,

1986

)

The present study investigates the awareness of New Zealand adolescents towards nuclear issues and towards New Zealand's nuclear prospects in world affairs. A questionnaire was constructed which was used to examine the ...

Bleach, Melanie Jane

(

University of Canterbury

,

1995

)

The present study investigates the relationship between adolescent pregnancy and demographic characteristics, self esteem, alcohol use and attachment styles in romantic relationships, and explores the links between these ...