Clinicians' appraisal of mental health in homosexual and heterosexual women and men
(1992)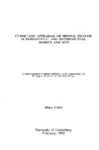 View/Open
Type of Content
Theses / Dissertations
Thesis Discipline
Psychology
Degree Name
Master of Arts
Publisher
University of Canterbury
Language
English
Collections
Abstract
114 NZ Registered Psychologists participated in a study which examined diagnostic perceptions and procedures and investigated the effects of client sex, sexual orientation and clinician sex on clinical assessments of mental health. Subjects were presented with one of four hypothetical case studies which varied client sex (male, female) and sexual orientation (heterosexual, homosexual) and were asked to respond to exploratory questions regarding their first impressions, major assessment issues and diagnoses. They also evaluated one of four types of mentally healthy adults (heterosexual male or female; and homosexual male or female) on 14 masculine-instrumental and 14 feminine-nurturant traits. Content analyses of exploratory questions indicated a trend to treating homosexual orientation as salient but not heterosexuality or client sex.
A 2(Stimulus Person Sex)x2(Stimulus Person Sexual Orientation)x2(Subject Sex)x2(Rating) analysis of variance revealed a main effect for stereotype sex. Masculine traits were perceived as more important overall determinants of mental health. This, however, was qualified by two interaction effects. A stimulus person x rating interaction demonstrated an androgynous model of mental health for men and a masculine model of mental health for women.
A sexual orientation x rating interaction suggested an androgynous model of mental health for homosexuals and a masculine model for heterosexuals. This was affected primarily by the evaluations of gays and heterosexual women. There was no evidence of sex-role inversion for homosexual clients, nor were there any effects for clinician sex.
Results were discussed in terms of the hypothesised androgynous model only holding for males and homosexuals and that the masculine model for women suggested a continued double­ standard for mental health as was found by Brovem1an, Braverman, Clarkson, Rosenkrantz and Vogel in 1970. Implications in clinical assessment were also considered. Suggestions for improvements to the research design and ideas for future research were offered.
Keywords
Sex role; Stereotypes (Social psychology); Clinical psychologists; Lesbians--Mental health; Gays--Mental health
Rights
All Rights Reserved
Related items
Showing items related by title, author, creator and subject.
Casey, Elizabeth Anne

(

University of Canterbury

,

1990

)

This study was intended to assess the effects of sex and sexual orientation on measures of liking and loving for partner and on responses to some general questions regarding homosexual relationships. It was also intended ...

Richardson, Deirdre F. (Deirdre Finnula)

(

University of Canterbury

,

1991

)

The links between maternal depressive symptomatology, maternal social supports and maternal and teacher ratings of child behaviour were examined in 50 women, with at least two children aged between 4 and 17 years, who were ...

Johnstone JM

;

Kaplan BJ

;

Rucklidge, Julia

(

Informa UK Limited

,

2021

)

Although current evidence confirms the importance of diet for mental health, many psychologists avoid discussing dietary intake with clients, questioning whether this information is within their scope of practice. This ...