A study of the relations between verbal and nonverbal behaviour : developmental differences in children's differentiation of response duration
(1992)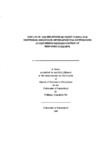 View/Open
Type of Content
Theses / Dissertations
Thesis Discipline
Psychology
Degree Name
Master of Science
Publisher
University of Canterbury
Language
English
Collections
Abstract
The discovery of discrepancies between human and animal performance on standard reinforcement schedules has resulted in growing interest in the role of verbal behaviour in human operant responding. The verbal control theory states that discrepancies between human and animal responding result from the unique ability of humans to use verbal descriptions of contingencies as rules for the self-instruction of behaviour. In opposition to this theory, the epiphenomenal hypotheses state that verbal behaviour plays no role in mediating nonverbal responding. The present study was designed to examine the verbal control theory, and to explore a related claim that there is a delay of some years between the initial acquisition of language and the development of rule-governed behaviour. Children aged 4.5, 7 and 11 years-old performed a discrete-trials task requiring temporal differentiation of button press duration. Success on this task was compared when children were required to perform either a concurrent verbal or nonverbal interference task. The two interference tasks did not show a differential effect on responding for any age group. While this result fails to support the verbal control theory, support for the opposing epiphenomenal hypotheses is precluded by problems identified with the use of verbal interference tasks. In addition to the interference tasks, children's verbal formulations of the reinforcement contingency were assessed by the presentation of a verbal probe following each trial. For the two older groups of subjects, successful nonverbal performance was correlated with verbal identification of the contingency, while for the youngest group no such relationship was apparent. These results clearly support the claim that following the initial acquisition of language there is a period during which verbal and nonverbal behaviour are dissociated. It is proposed that this hypothesis is not dependent on the overall validity of the verbal control theory.
Keywords
Verbal behavior; Body language; Operant behavior
Rights
All Rights Reserved
Related items
Showing items related by title, author, creator and subject.
Dew, Anna-Marie E.

(

University of Canterbury

,

1989

)

The present study investigated the influence of ethnicity and culturally based non-verbal behavioural style on interpersonal attraction. Sixty-four Palagi female university students interacted with a Samoan or Palagi ...

Bartneck, Christoph

;

Ser QM

;

Moltchanova E

;

Smithies J

;

Harrington E

(

PUBLIC LIBRARY SCIENCE

,

2016

)

© 2016 Bartneck et al. This is an open access article distributed under the terms of the Creative Commons Attribution License, which permits unrestricted use, distribution, and reproduction in any medium, provided the ...

Tautolo, E-S.

;

Schluter, P.J.

;

Paterson, J.

(

University of Canterbury. School of Health Sciences

,

2015

)

Background: Fathering and father involvement is critical to the formation, stability, and wellbeing of children and families in society. However, the contemporary nature of fathering and families is changing, especially ...