The role of attributional complexity in person memory
(1991)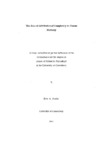 View/Open
Type of Content
Theses / Dissertations
Thesis Discipline
Psychology
Degree Name
Master of Science
Publisher
University of Canterbury
Language
English
Collections
Abstract
This study examined the relation between Attributional Complexity and how perceivers' organise and retrieve personality impressions from memory. One hundred and two subjects were asked to either: (a) form an impression of a target person described by twenty behaviourial sentences; (b) form an impression, and subsequently write a personality description of the target, and justify it with another subject, or (c) simply memorise as many sentences as they could. As predicted, subjects given impression formation instructions recalled significantly more behaviours than did subjects in the memory condition. In addition, attributionally complex subjects recalled significantly more items than attributionally simple subjects, but only in the two impression formation conditions when in-depth processing was encouraged; when in-depth processing was restricted in the memory condition there was no difference in recall between the attributionally complex and simple subjects. Also as expected, the attributionally complex subjects tended to write more complex personality descriptions of the target person. These results were discussed in relation to various accounts of person memory and it was concluded that individuals' who operate with more complex cognitive schemata have more ability than individuals' with simple schemata to understand, encode and subsequently recall a welter of trait related person information. However, this ability tends to be emphasised when there is sufficient motivation and challenge to do so. General implications are drawn for the relation between attributional complexity and intelligence as well as theoretical implications for person perception research.
Keywords
Memory; Attribution (Social psychology); Impression formation (Psychology)
Rights
All Rights Reserved
Related items
Showing items related by title, author, creator and subject.
Mclean, Jay

(

University of Canterbury

,

2002

)

The potential differing effects of causal attributions on both stress and coping in response to failing an exam were investigated. A 59 item questionnaire was distributed to 99 male and 90 female students from Canterbury ...

Skinner, Rachel

(

University of Canterbury

,

2003

)

A well-replicated research finding is that incidents of male perpetuated intimate violence are perceived more negatively than incidents of female intimate violence. This research investigated the role of size and strength ...

Lynskey, Michael Thomas

(

University of Canterbury

,

1989

)

A model linking causal attribution and cultural stereotypes through the mediating influence of expectancies is proposed and tested. Expectancies are believed to be based on cultural stereotypes (Deaux, 1984) and it has ...