The tip of the tongue state induced by musical stimuli
(1986)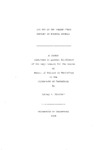 View/Open
Type of Content
Theses / Dissertations
Thesis Discipline
Psychology
Degree Name
Master of Science
Publisher
University of Canterbury
Language
English
Collections
Abstract
The purpose of this study was to examine the phenomenon of knowing that a melody is familiar but being unable to name it. The occurrence and nature of such a "Tip of the Tongue" (TOT) state induced by musical stimuli was investigated by translating Brown and McNeill's (1966) procedure and findings to a musical setting. Transformations of familiar melodies were used as the stimuli. Twenty musically inexperienced and musically experienced subjects were required to perform seven tasks which tested the occurrence of a TOT state and the type of information available. A TOT state occurred with both types of subjects and a range of information was available. Subjects possessed knowledge of the rhythm of the melody, later parts of the melody and the category of the melody. A surprising and unique finding was that a systematic progression of occurrence of recalled information existed. This is a possible line of investigation for future research.
Keywords
Recollection (Psychology); Music--Psychological aspects
Rights
All Rights Reserved
Related items
Showing items related by title, author, creator and subject.
Buckley, Mary-Ellen

(

University of Canterbury

,

2004

)

Empirical support for the idea that successful retrieval of momentarily wanted information depends to some extent on the inhibition of unwanted, competing information, comes from a phenomenon termed retrieval-induced ...

Moorhouse, Angela Rosamunde

(

University of Canterbury

,

1990

)

An experiment was conducted to examine the potential interaction of caffeine and estrogen on short-term memory recall, in female subjects. Thirty eight subjects were tested for their short-term performance on an audio-taped, ...

Bell, Leo Alan Adrian

(

University of Canterbury

,

1971

)

Three musicians, highly proficient in the absolute identification of piano tones, were required to re- produce on an oscillator, three target tones by the method of adjustment. The subjects, in varying degrees, demonstrated ...