Facilitated information storage and individual differences in psychophysical power function exponents
(1964)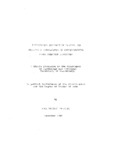 View/Open
Type of Content
Theses / Dissertations
Thesis Discipline
Psychology
Degree Name
Master of Arts
Publisher
University of Canterbury
Language
English
Collections
Keywords
Information theory; Psychophysiology; Senses and sensation
Rights
All Rights Reserved
Related items
Showing items related by title, author, creator and subject.
Chamberlain, Kevin Paul

(

University of Canterbury

,

1968

)

McLennan KS

;

Neumann, Ewald

;

Russell, Paul N.

(

Springer Science and Business Media LLC

,

2019

)

© 2019, The Psychonomic Society, Inc. Two experiments investigated positive priming and negative priming effects in a lexical decision task. A priming task was used in which participants were required to make a verbal ...

Moltchanova E

;

Bartneck, Christoph

(

John Benjamins Publishing Company

,

2017

)

Emotional facial expression are an important communication channel between artificial characters and their users. Humans are trained to perceive emotions. Robots and virtual agents can use them to make their inner states ...