An evaluation of gentle teaching and visual screening in the reduction of stereotypy in mentally retarded persons
(1987)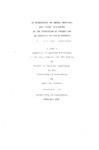 View/Open
Type of Content
Theses / Dissertations
Thesis Discipline
Psychology
Degree Name
Master of Arts
Publisher
University of Canterbury
Language
English
Collections
Abstract
An alternating treatments design was used to compare Gentle Teaching and Visual Screening with a no-treatment control in the reduction of high rate stereotypy in three mentally retarded persons. A Task-training condition using standard behavioural techniques followed Baseline to establish the effects of training the subjects on the task. While all procedures were superior to the control condition, for all subjects, Visual Screening was more effective in suppressing stereotypic behaviour than Gentle Teaching. In two subjects, Gentle Teaching was more effective than the Task-training condition but for the third subject, stereo typy increased under the Gentle Teaching condition. Implementing Visual Screening across two and then in all three daily sessions reduced the rate of stereotypy further to near zero levels. For one subject, an additional phase introducing new therapists demonstrated that the treatment effects were easily replicated across therapists. Mixed changes in collateral behaviours were observed and subject responses were idiosyncratic. There were no specific treat­ ment effects noted for bonding (pro-social behaviours) or the other collateral behaviours that were monitored. This result was unexpected in view of bonding being the expressed goal of Gentle Teaching. These results are discussed in terms of future research in the evaluation of Gentle Teach­ ing in mentally retarded persons.
Keywords
People with mental disabilities--Education; Stereotypes (Social psychology)
Rights
All Rights Reserved
Related items
Showing items related by title, author, creator and subject.
Jones, Linzi J.

(

University of Canterbury

,

1987

)

The effects of gentle teaching and visual screening on the self-injurious and collateral behaviours of three profoundly retarded persons was evaluated using an alternating treatments design. Visual screening and gentle ...

Stringer, Elizabeth Margaret

(

University of Canterbury

,

1985

)

Various methods have been used to teach sight words to young children. Typically, the word to be taught is paired with an extra-stimulus prompt such as a picture depicting the word, and the child is presented with the word ...

Worsfold, Claire Suzanne

(

University of Canterbury

,

1996

)

Past research has shown the benefits of giving one or more lessons to children without a disability about friendship and disability, in anticipation of the integration of a child with a disability to their class. The ...