"Only God Can Be": Aleksandr Vvedensky, Kant,God, and Time
(2021)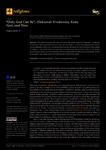 View/Open
Type of Content
Journal Article
ISSN
2077-1444
Abstract
This article discusses the place of God in the poetic system of Aleksandr Vvedensky. Vvedensky's famous pronouncement on his "poetic critique" is more throughgoing than Kant's critical enterprise, and invites a comparison between the movement of Kant's thought in the Critique of Judgment, and what Vvedensky's recourse to senselessness aims to achieve. Time in Vvedensky poetics may be seen as a radical extension of Kant's philosophical system where it ultimately resides in an equally inaccessible realm on which its entire edifice is founded.
Citation
Pavlov E (2021). "Only God Can Be": Aleksandr Vvedensky, Kant, God, and Time. Religions. 12(8). 658-669.
This citation is automatically generated and may be unreliable. Use as a guide only.
Keywords
Alexansder Vedensky; Russian avant-garde; time; God
ANZSRC Fields of Research
47 - Language, communication and culture::4705 - Literary studies::470505 - Central and Eastern European literature (incl. Russian)
50 - Philosophy and religious studies::5003 - Philosophy::500316 - Philosophy of religion
50 - Philosophy and religious studies::5004 - Religious studies::500405 - Religion, society and culture
Rights
All rights reserved unless otherwise stated
Related items
Showing items related by title, author, creator and subject.
Mondry, Henrietta

(

MDPI AG

,

2021

)

Vasily Rozanov was one of the first Russian writers of the fin de siècle to create a nexus between the study of the history of world religions and the history of sexuality. He viewed Christianity's asceticism as a source ...

Roberts, P.

(

University of Canterbury. School of Educational Studies and Leadership

,

2013

)

In Fyodor Dostoevsky's influential novel Notes from underground, we find one of the most memorable characters in nineteenth century literature. The Underground Man, around whom everything else in this book revolves, is in ...

Gavin, Samantha

(

University of Canterbury. History

,

2014

)

Dietrich Bonhoeffer is a well known individual because of his behaviour during Nazi Germany (1933-1945), but what are the reasons for his fame? Was he really that unique? this paper aims to determine who has celebrated ...