Investigating aberrant cell separation in sloughy, an Arabidopsis thaliana mutant allelic to schizoriza
(2014)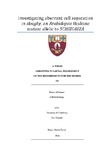 Type of Content
Theses / Dissertations
Thesis Discipline
Biological Sciences
Degree Name
Master of Science
Publisher
University of Canterbury. Biological Sciences
Collections
Abstract
Plant growth and development depends on controlled cell expansion. This, in itself, is determined by the plant cell wall, a structural matrix of polysaccharides encasing the plant cell. One line of investigation that has proven particularly successful in elucidating the components of the plant cell wall machinery has been the forward genetic screens of cell wall mutants. In this study, the molecular and cellular characterisation of sloughy, a cell separation mutant in Arabidopsis thaliana, was commenced. This mutant has a striking phenotype, with files of elongating epidermal cells snaking away from the adjacent epidermal cells and from the underlying cortex, loosing contact from the side walls while remaining attached at the cell ends, in a manner reminiscent of border-like cells in the root cap of arabidopsis. The sloughy mutation was fine mapped to a short region on chromosome I using high resolution melt point analysis. On sequencing all five genes in this region, a single nucleotide mutation, introducing a stop codon, was detected in exon 2 in the previously-described heat shock transcription factor SCHIZORIZA that results in a truncated protein missing several conserved domains essential for activity. SCHIZORIZA acts as a cell fate determinate in the root meristem to promote cortex fate, while suppressing epidermal and root cap fate in the mature ground tissue. Although the literature on schizoriza mutants has focused on the developing root meristem, with little documentation on the cell separation phenotype further up in the roots, the investigation of a collection of schizoriza TILLING mutants revealed that aberrant cell separation was ubiquitous to schizoriza mutants with a severely truncated protein. To investigate cell identity in the mature roots, sloughy was crossed to GAL4-GFP enhancer trap lines that act as cell-specific markers. Epidermal identity lines revealed that sloughy possessed a supernumerary ground tissue layer with epidermal identity. A cortex and endodermal line revealed that these two identities are restricted to the endodermal layer and the next ground tissue layer out. There was no indication of root cap identity in the mature root with any of the root cap lines used, although partial lateral root cap identity has been previously described in the epidermal and subepidermal cell layers in the meristem of schizoriza mutants expressing SOMBRERO-GFP, a lateral root cap-specific transcription factor. Immunolabelling of cell wall epitopes revealed that the JIM13 antibody, which specifically labels arabinogalactan-proteins in wild-type root caps, often labelled the epidermal cells and surrounding mucilage further up the in the roots of sloughy. The aberrant cell separation present in sloughy is thought to be a consequence of epidermal cells possessing partial lateral root cap identity. The data on sloughy/schizoriza is sufficient to generate a model on how a meristem developmental gene can generate a cell separation phenotype in the mature roots. Loss of SCHIZORIZA causes confused cell identity in the root meristem that results in an epidermal and subepidermal layer possessing mixed epidermal and lateral root cap identity. The distinctive properties of border-like cells in the root cap of arabidopsis have been linked to unique cell wall maturation and developmental processes, implicating the cellulases CEL3 and CEL5, the pectin glycosyltransferase QUA1, the pectin methyltransferase QUA2 and other pectolytic enzymes. The ectopic expression of these cell wall enzymes in the epidermal and subepidermal layers of sloughy roots result in reduced adhesion along the sides of the cell, while the ends remain attached, causing the observed cell separation phenotype.
Keywords
arabidopsis thaliana; mutant; cell wall; forward genetic screen; schizoriza; cell identity; root meristem; root cap
Rights
Copyright Ronan Charles Broad
Related items
Showing items related by title, author, creator and subject.
Allan, Claudia Katherine

(

University of Canterbury

,

2021

)

Plant growth and survival is fundamentally linked with the ability to detect and respond to abiotic and biotic factors. Drought and osmotic stress are two key environmental factors accelerated by climate change. Both ...

Phang, Ing Chia

(

University of Canterbury. School of Biological Sciences

,

2010

)

Lead (Pb) is one of the most commonly occurring, highly persistent and widely distributed heavy metal contaminants in the environment. It has a tendency to bioaccumulate in animals and plants, and potentially, it is able ...

Griffin, M.D.W.

;

Billakanti, J.M.

;

Wason, A.

;

Keller, S.

;

Mertens, H.D.T.

;

Atkinson, S.C.

;

Dobson, R.C.J.

;

Perugini, M.A.

;

Gerrard, J.A.

;

Pearce, F.G.

(

University of Canterbury. Biological SciencesUniversity of Canterbury. Biomolecular Interaction Centre

,

2012

)

In plants, the lysine biosynthetic pathway is an attractive target for both the development of herbicides and increasing the nutritional value of crops given that lysine is a limiting amino acid in cereals. Dihydrodipicolinate ...