The attribution of responsibility for child sexual abuse in a New Zealand setting : a replication study
(1992)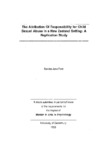 View/Open
Type of Content
Theses / Dissertations
Thesis Discipline
Psychology
Degree Name
Master of Arts
Publisher
University of Canterbury
Language
English
Collections
Abstract
This study is a replication of Broussard and Wagner (1988). The study included written descriptions of a sexual encounter between an adult and a child to examine the way in which the gender of the child, the gender of the adult , the gender of the subject/respondent and the response of the child affected the attribution of responsibility for child sexual abuse. The attribution of responsibility was examined in two samples who were presumed to differ in terms of specific education in, and experience of child sexual abuse. A total of 144 students attending the University of Canterbury (72 females, 72 males) and 65 individuals working professionally or on a voluntary basis within the field of child sexual abuse participated in this study. Data were analysed using analysis of variance (ANOVA). Significant differences in the attribution of responsibility were found between the groups. Results for the Student sample indicated that the gender of the respondent affected the attributions made both to the child and to the adult. The response of the child also affected the way Students attributed responsibility to the child. No significant effects were established for the gender or response variables on the Professional/Volunteer sample.
These findings are discussed in relation to previous research and future direction for research are suggested.
Keywords
Child sexual abuse--New Zealand; Responsibility; Attribution (Social psychology)
Rights
All Rights Reserved
Related items
Showing items related by title, author, creator and subject.
Robertson, David Brian

(

1990

)

This thesis reviewed the major methodological, theoretical and empirical research literature pertaining to replication of child sexual abuse (CSA) in males. The review concluded that a dearth of scientific evidence exists ...

Over recent years there has been considerable publicity and research on the issue of child sexual abuse. Although figures vary, there is apparently consensus among the general public and health professionals that in ...

Sutcliffe-Thomas, Christina Jane

(

University of Canterbury

,

1996

)

Child molesters present with a variety of characteristics that contribute to the development and perpetuation of their offending, which can be further utilised in the assessment of offender subtypes. Offenders' cognitive ...