An investigation into the structure of workaholism : the design of a new measure, tested against key antecedents and consequences
(2008)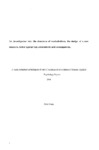 View/Open
Type of Content
Theses / Dissertations
Thesis Discipline
Psychology
Degree Name
Master of Science
Publisher
University of Canterbury
Language
English
Collections
Abstract
The present study approaches the diverse array of literature surrounding workaholism, attempting to provide empirical support for a new model proposed by Ng, Sorenson and Feldman (2007). Following Ng et al.'s recommendations, a four-factor measure was designed and evaluated in terms of its psychometric properties and relationships to a number of theoretically related constructs. The sample was 107 individuals predominantly in jobs that were prone to workaholic like behaviour. My results showed that the 4-factor view of workaholism was empirically justified. The outcome was four reliable scales of 5-6 items, measuring cognitive obsession, behavioural involvement, work enjoyment and negative affect whilst away from work. Path modelling techniques found conscientiousness and work pressure to be significant predictors of workaholism, whilst job satisfaction, mental health and work family balance were significant consequences of workaholism. Workaholism partially mediated the relationships from work pressure to both job satisfaction and work family balance. The implications for the study revolve around organisations being aware that in hiring conscientious individuals into high pressure positions, these individuals are at risk of developing workaholism and reaping the respective consequences, therefore appropriate care must be taken to ensure employee's safety and wellbeing.
Keywords
Workaholism; Work--Psychological aspects
Rights
All Rights Reserved
Related items
Showing items related by title, author, creator and subject.
Garry, T.

(

University of Canterbury. Management

,

2007

)

This study examines the mediating influence of consumer expertise on the antecedents and consequences of Affect within a professional services market context. Whilst there is increasing evidence to suggest an empirical ...

Joughin, Gahan

(

University of Canterbury

,

2003

)

The present study examined the psychometric prope1iies of two relatively new measures of avoidant coping, the Young-Rygh Avoidance Inventory (YRAI; Young & Rygh, 1994) and the Acceptance and Action Questionnaire (AAQ; Hayes ...

Hodges, D. A.

(

University of Canterbury. Geography

,

1971

)

''Axiomatic in historical geography is the notion that in studying the process of settlement the physical environment per se warrants less attention than the environment as perceived and imagined by contemporaries attempting ...