Fear of success in Singapore : an exploratory study
(1989)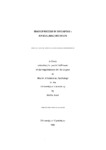 View/Open
Type of Content
Theses / Dissertations
Thesis Discipline
Psychology
Degree Name
Master of Science
Publisher
University of Canterbury
Language
English
Collections
Abstract
One hundred and five female first year undergraduates of Chinese, Malay and Indian origin participated in a study investigating the construct validity of "fear of success" in Singapore. Fear of success was examined together with personal, personality and attitudinal variables: sex-role identity, locus of control, idiocentrism-allocentrism, attitudes towards women, affiliative tendency, sensitivity to rejection, academic ability, educational goal, environment and course choice, as well as mother's educational and occupational status. The results indicate that only affiliative tendency and sensitivity to rejection predict fear of success in Singaporean women. These findings are discussed in light of the social and economic framework, socialization practices, and interpretation of success in Singapore. It is recommended that future research examine the definition of success for the sample or culture under investigation so as to gain a better understanding of achievement strivings in general.
Keywords
Fear of success--Singapore--Sex differences; Achievement motivation--Sex differences.
Rights
All Rights Reserved
Related items
Showing items related by title, author, creator and subject.
Gerslov, Helen Marie

(

University of Canterbury

,

1995

)

An individual's goal perspective is held to be the motivational focus of their actions within the sporting context. Goal orientations and perceived ability interact and influence sporting achievement behaviours in both ...

Pocock, Marama Ann

(

University of Canterbury

,

1993

)

This study was designed to investigate the effects of the New Zealand Sports Education Programme - KiwiSport- on the cooperative and competitive attitudes of children in sport, their intrinsic motivation, and also their ...

Comer, K.

;

Brogt, E.

;

Sampson, K.A.

(

University of Canterbury. AVC Research Office

,

2011

)

Building on Shulruf, Hattie and Tumen (2008), this work examines the capacity of various National Certificate in Educational Achievement (NCEA)-derived models to predict first-year performance in Biological Sciences at ...