Preverbal directionals as markers of associated motion in Paluai (Austronesian, Oceanic)
(2021)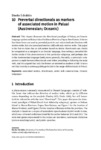 View/Open
Type of Content
Chapters
Publisher
De Gruyter Mouton
ISBN
9783110692006
Collections
Editors
Guillaume A
Koch H
Abstract
This chapter discusses the directional paradigm of Paluai, an Oceanic language spoken on Baluan Island in Manus Province, Papua New Guinea. It shows that these forms are used as preverbal particles not only to indicate direction with motion verbs, but also associated motion (AM) with non-motion verbs. This paper is the first to claim that an AM system based on deictic directionals can clearly be recognized as a category in an Oceanic language, thus setting a precedent for further study of this phenomenon in this particular subgroup, and perhaps also in the Austronesian language family more generally. Secondly, a systematic comparison is made between directionals used either preceding or following the main verb, and it is argued that only the former are attested as markers of AM. It turns out that iconicity is a strong guiding principle in the usage of directionals in Paluai.
Citation
Schokkin D (2021). Preverbal directionals as markers of associated motion in Paluai (Austronesian, Oceanic). In Guillaume A, Koch H (Ed.), Associated Motion.: 385-416. Berlin: De Gruyter Mouton.
This citation is automatically generated and may be unreliable. Use as a guide only.
Keywords
associated motion; directionals; Oceanic languages; serial verb constructions
ANZSRC Fields of Research
47 - Language, communication and culture::4703 - Language studies
47 - Language, communication and culture::4704 - Linguistics
Rights
All rights reserved unless otherwise stated
Related items
Showing items related by title, author, creator and subject.
Gast V

;

Evans N

;

Döhler C

;

Schokkin, Dineke

(

University of Hawai'i Press

,

2021

)

This paper provides a first description of the phonetics and phonology of Idi (Pahoturi River; ISO 639-3: idi, glottocode: idii1243) as spoken by about 1,000 people in the villages of Dimsisi and Sibidiri, located in the ...

Tayyar Madabushi H

;

Dunn, Jonathan

(

Association for Computational Linguistics

,

2021

)

This paper measures the impact of increased exposure on whether learned construction grammars converge onto shared representations when trained on data from different registers. Register influences the frequency of ...

Lindsey, Kate L.

;

Schokkin, Dineke

(

University of Hawai'i Press

,

2021

)