Orientation and level : the need for a dual concept approach to academic motivation
(1995)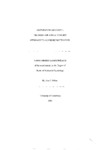 View/Open
Type of Content
Theses / Dissertations
Thesis Discipline
Psychology
Degree Name
Master of Science
Publisher
University of Canterbury
Language
English
Collections
Abstract
This study was an attempt to clarify some issues surrounding academic motivation, and to investigate some of the relationships surrounding academic motivation, ability, and achievement. It was found that academic motivation is comprised of two separate and independent constructs; level and orientation. In addition to being independent of each other, motivational level and orientation display markedly different relationships with other academic variables. Motivational level appears to be quite independent of ability and to have significant predictive qualities with regard to achievement. Motivational orientation on the other hand has little or no effect on achievement beyond that which can be attributed to ability. It is argued that these findings, in conjunction with previous research, mean that motivational level and orientation must be considered seperately and cannot be combined into a single motivational factor. This division was used as the basis for a model of academic motivation which includes several single factors and wider theories which contribute to achievement motivation. Some of these contribute to the development of motivational level, while others relate to it's orientation. Attribution theory appears to be the sole factor which is relevant to both aspects of motivation. The construction of this model allows the addition of further factors, and sheds some light on how the many factors and theories relevant to academic motivation relate to each other and to resultant motivation, without arguing the need for adoption of one theory or approach over another.
Keywords
Motivation in education; Academic achievement; Learning ability
Rights
All Rights Reserved
Related items
Showing items related by title, author, creator and subject.
Gerslov, Helen Marie

(

University of Canterbury

,

1995

)

An individual's goal perspective is held to be the motivational focus of their actions within the sporting context. Goal orientations and perceived ability interact and influence sporting achievement behaviours in both ...

Ram, Alison

(

University of Canterbury. Psychology

,

2005

)

The relationship between positive and negative perfectionism, and academic achievement, motivation and well-being in tertiary students was investigated. It was hypothesized that higher levels of positive perfectionism would ...

Henley, Bruce R.

(

University of Canterbury. Science Department, Christchurch College of Education

,

2001

)

This dissertation looks at questions relating to the New Zealand chemistry curriculum. The main findings relate to chemical misconceptions, concept development, pupils' views of their learning environment, problem-solving ...