Salivary response when food-deprived : comparing dieters and non-dieters
(1995)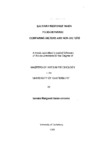 View/Open
Type of Content
Theses / Dissertations
Thesis Discipline
Psychology
Degree Name
Master of Arts
Publisher
University of Canterbury
Language
English
Collections
Authors
Hazan-Browne, Sandra Margaret
show all
Abstract
This study examined salivary, cognitive and emotional reactivity to food cues when both non-food-deprived and food-deprived. Ten women low­ restrained eaters, and ten women high-restrained eaters identified with the Revised Restraint Scale, participated in the study. Two sessions, one requesting subjects to consume a standard breakfast before coming into the session two hours later, and the other requesting subjects to fast for seventeen hours overnight, were attended one week apart. While at baseline, salivary reactivity did not differ significantly, there was a trend for an interaction effect across group and condition for salivary reactivity. There was a significantly higher urge to eat in the non-food-deprived condition, at baseline. There was a significant interaction effect for perception of smell and for amount of calories consumed, between the high-restrained eaters and low-restrained eaters, across conditions. These findings may highlight the cognitive, physiological and behavioural challenges faced by dieters. In addition, it may provide preliminary evidence that differences between dieters and non-dieters are, at least in part, the result of long-term dieting histories, rather than current dieting patterns.
Keywords
Saliva--Psychological aspects; Fasting--Psychological aspects; Dieters--Psychology
Rights
All Rights Reserved
Related items
Showing items related by title, author, creator and subject.
Harliwich, Dean David

(

University of Canterbury. Biological Sciences

,

2011

)

The native New Zealand octopus P. cordiformis is a relatively unstudied member of the cephalopod class. Behavioural investigation will widen the breadth of our knowledge about octopus behaviour away from the handful of ...

Bruce, Hayley Helen

(

University of Canterbury

,

1997

)

This project set out to examine the factors which differentiate women who do and do not diet, and those who are and are not satisfied with their bodies, amongst a non-clinical sample of 56 women from in and around the ...

Dale, Karen Lee

(

University of Canterbury

,

1995

)

In a study investigating the relationship of self-evaluations to the co-occurrence of disordered eating and social anxiety, eating attitudes, social anxiety, body-satisfaction and self-esteem were examined in a non-clinical ...